Yup, I'm recapping Scream Queens! It's the critically panned, hilarious mess of a show on FOX, also known as Ryan Murphy's latest brainchild. You probably heard of it, even if you might be too ashamed to admit that you've watched it AND enjoyed it too.


In Progress

2/13 episodes
WOOOOO SCREAM QUEENS!!! Oh my god, dis show. *shakes head* What a glorious mess, but it's also hilariously campy, insanely quoteable, and utterly ridiculous in every way. It's the type of show that you can enjoy as long as you shut off your brain and not engage in any critical thinking, which means it matches my TV viewing tastes perfectly.
I'm gonna try my best to recap the entire season in a single (long ass) post, skipping all the boring scenes (looking at u grace), and just highlighting the most insane moments in each episode. Please be warned this Scream Queens recap probably won't make any sense. It'll just be a collection of hilarious quotes, which…to be fair, is basically what this show is all about. Let's accept Scream Queens for what it is: a bunch of funny one-liners and pop culture references with several other scenes in between.
Before we start, no Scream Queens recap is complete without the show's unofficial anthem playing in the background. Even if you get nothing of value from this show, which is probably gonna be the case, at least you got to listen to this iconic song by TLC. *waving my arms* WATERFALLS IS MY JAM, Y'ALL~
Episode 1: Pilot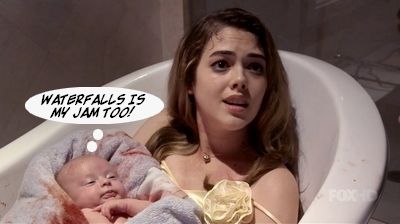 The show begins at a college party. One of the sorority pledges, Sophia, had just given birth in a bathtub. She thought she was having a *bread baby* and didn't even realize she was pregnant (happens to the best of us). There was blood everywhere and she looked pretty dishevelled, but her sorority sisters were like *eww blood yuck baby gross* and simply left her there because their favourite song was playing at the dance floor. "I'm not missing Waterfalls for THIS! Waterfalls is my JAM!"
At this point, if you're already thinking: "WTF!? This isn't how normal human beings behave!? What is this!? What show am I watching!?", it's safe to say Scream Queens may not be the right show for ya, so you should quit while you're ahead. Did I not tell you to turn your brain off? An empty mind is critical to enjoying Scream Queens. On the other hand, if you simply *lmao* at all the ridiculousness, then come over and hang with me because we're on the ~*same level*~ babe.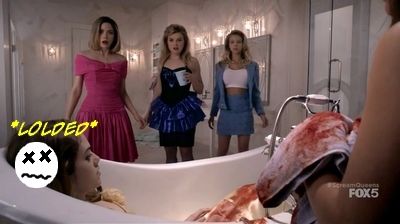 By the time these sorority bitches (Mandy, Bethany, Coco) finished grooving to TLC's Waterfalls, Sophia was already like *lolded* from severe blood loss. Welp! That sure escalated quickly!
It's easy to blame these three bitches for the bathtub girl's death, but if you thiiiiink about it, maybe they wouldn't have gone off to dance *if* TLC weren't such an awesome band and produced such a catchy song in the first place. In many ways, maybe TLC were the REAL KILLERS that inadvertently caused this tragic turn of events.
There's another girl named Amy, who delivered the babeh and was the only one to stay with the baby momma. It seems strange that Amy didn't call the ambulance or ask anybody else at the party for help, but considering she didn't leave a dying chick to go drop a beat somewhere, she's still considered the most normal girl here by default. Or maybe she just wasn't a big TLC fan. Meh, not my jam!
In these types of shows, it's always the most normal character that turns out to be the baddest, craziest, evillest mofo in the end. Unsurprisingly, there's a very strong possibility that Amy raised the babies and later trained them to be evil merciless assassins for twenty years, so even the ~normal girl~ is a bit batshit insane on this show. *lol*
The actual story takes place in present day. The sorority is now led by Chanel Oberlin, who calls herself the queen of Kappa Kappa Tau, and she's affectionately known as Chanel #1.
Ooh boy, how do you begin to describe Chanel? Imagine the nastiest, evillest, most stereotypical queen bee rich bitch mean girl that you've ever encountered. Now, bleach it with blonde hair, dress it in designer clothes and accessories, add a sprinkle of racism, homophobia and casual bigotry in the mix. Then, put it in an acidic cauldron to brew for around twenty years, and that's what you get with Chanel #1. I can't sugar-coat it, she is a BAD human being. Naturally, every amazing zinger and every hilariously awful quote on the show comes from her character, so you better get used to this bitch.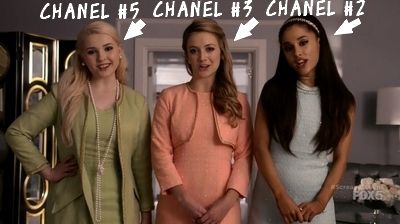 Chanel #1: My name is Chanel Oberlin, and I am the queen of Kappa Kappa Tau.
These are my minions. I don't know their names. I don't want to know their names. They're known as Chanel #2, Chanel #3, Chanel #5. I'm Chanel #1, obvi.
There was a Chanel #4, but she got meningitis. She was like, "I'm sick! I have to go home!" And I was like, "No. Stay." But she went home anyway, and then she died. So another thing I was right about.
Read all of that, but imagine it being said in the most stuck-up bitchy voice ever. I've seen Emma Roberts in American Horror Story before, and I swear this girl manages to nail the bitch character perfectly. This may sound like a backhanded compliment, but she's a natural at being a bitch. Her characters always exude the perfect amount of sass & vitriol, and I absolutely love it.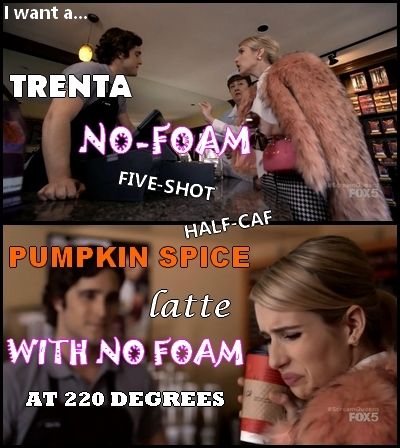 I dunno about you, but if every
Scream Queens
episode simply featured Chanel #1 going on a massive bitch rampage and cussing out various characters in hundreds of unique ways, I'd totally watch that shit. Witness her raging meltdown at the coffee shop with her ex-boyfriend, Pete the Barista.
Barista: Welcome to The Grind! What can I get for you?
Bitch: I'll have a Trenta, no-foam, five-shot, half-caf, no foam, pumpkin spice latte with no foam at 210 degrees.
Barista: First of all, that's really hot. That's two degrees below boiling.
Bitch: I'm sorry, did I enter a wormhole to a universe where this coffeehouse does not possess the technology to heat my favorite autumnal tradition to 210 degrees!? I like my pumpkin spice lattes extra hot, so please comply with my request.

Barista: But extra hot is 170 degrees…
Bitch: I'm sorry, does your job description entail arguing with your customers, thereby delaying the moment at which they receive the irresistible nutmeggy sweetness of the extra hot, no foam, pumpkin spice latte they've been thinking about all day? I mean, God!
~*later*~
Barista: Right. One 210-degree, Trenta, five-shot, no foam, pumpkin spice, half-caf, no foam latte for Chanel.
Bitch: Thank you, coffee donkey. *takes a sip* UGHHH!!! You burned the milk! *throws it to the floor* Learn to make a pumpkin spice latte, you psychopath!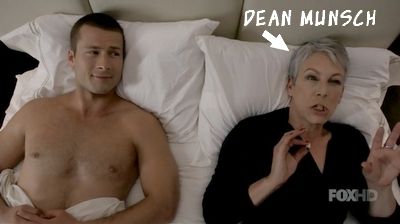 Chanel #1's biggest nemesis on campus is the university dean, played by the always delightful Jamie Lee Curtis. Dean Munsch is basically a carbon copy of Sue Sylvester from Glee. Imagine a power-hungry, morally corrupt, brisk talking order woman in a position of authority who also gives scathingly witty internal monologues. Yup, sounds just like Sue. Any moment now, I expect Dean Munsch's character to put on a tracksuit and order some cheerleaders around.
Dean Munsch is sleeping with the younger men in her student body, particularly one Mr. Chad Radwell, also known as Chanel #1's on-and-off boyfriend. Chad is a stereotypical frat boy dumb jock, status-obsessed bimbo, total douchebag and absolute manwhore. Nevertheless, his character still comes across as a *lovable rascal* because the actor playing him has really great comedic timing.
Going into Scream Queens, I knew I was expecting some solid performances from Emma Roberts & Jamie Lee Curtis, but this Glen Powell guy was a bit of a pleasant surprise! (Also, I'd hit it.
) The actor exudes so much enthusiasm and charisma in his role that I'm totes willing to ignore how he doesn't look like a college-aged student at all. *lol he oldddd*
In an attempt to destroy the evil sorority on campus and end Chanel #1's reign of terror, Dean Munsch imposed an open-door policy at Kappa Kappa Tau, which obviously mortified Chanel because this means the weird unpopular kids can join as pledges! *gasps* What do they think this is, the Glee Club!? Those walking circus shows are not welcomed!
Let's hear Chanel #1's assessment of each sorority newbie:
Neckbrace: "Real name, Hester Ulrich. History major. She smells like hot dog water and probably sprained her neck giving blumpkins down at the local bowling alley."
Deaf Taylor Swift: "Real name, Tiffany Something. And like all deaf people, she has horrible halitosis."
Predatory Lez: "Real name, Mac or Butch or something. Two days ago, I caught her staring at my ass on the quad. All that girl's after is a whole lot of bikini burger."
Sadly, two of them are just gag characters not long for this show (#killyourminorities), but yes that is indeed Rachel Barry in a neckbrace! Aha, you thought you'd get a break from seeing Lea Michele on TV after six seasons of Glee were put to a merciful end, but Ryan Murphy will continue trotting out his prize pony in every show he produces. Just wait until Scream Queens has been cancelled, then get ready to see Lea Michele in the cast list for the next season of American Horror Story: Summer Camp.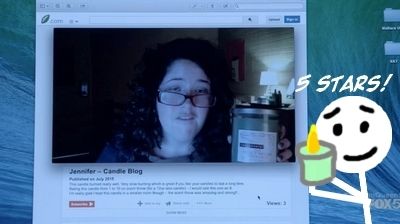 We also meet another sorority pledge named Jennifer, who is an official
candle vlogger
. We see one of her marvellous videos in action:
Jennifer: You guys, I love this one! I got it at Bath & Body Works, half-off. I call it the Nancy Meyers experience, because when you burn it, it smells like creamy couches and menopause. You know, like a Nancy Meyers movie, four stars. *sniffs the candle*
Nice review, Jennifer, but I'd like to hear more about the texture and longevity of the candle wick so I can make an informed assessment. Ironically, being a candle vlogger might be uncool BEFORE Scream Queens introduce it to the mainstream. Now, expect all the hipsters and YouTube stars to start doing these reviews ironically and everyone will be hopping on this candle vlogging phenomenon.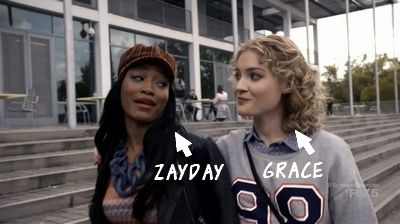 Oh yeah, I guess I should also mention these two basic bitches, Grace and Zayday, who also joined the sorority. Both of them are nice, friendly, perfectly charming goody-two-shoes who just wanna make friends and enjoy the best out of their college experiences, which obviously mean they're the worst characters on the show.
I mean, Zayday is alright, but the other one is seriously so *vanilla*. Apparently, Grace is supposed to be the main protagonist and her character has an actual storyline that takes up half of the episode every week, but no1curr about dis bland ho. Don't worry, I'll refrain from mentioning Grace & her boring bs in this recap unless absolutely necessary.
The story in
Scream Queens
(…why do I feel an urge to use air quotes when I talk about the so-called story on this show lol) is that there's a SERIAL KILLER on the loose. The plot revolves around figuring out who is this mysterious masked killer known as the Red Devil. Why does the Red Devil insist on killing everyone at campus, particularly those snotty sorority bitches???
In case you didn't catch on, a lot of ppl are gonna die on Scream Queens! As you'd expect from a campy little show, these deaths are always senseless, gratuitous, and done in a hilariously absurd manner. Here at Recap Everything, our judges will commiserate each death by assigning a score based on the artistic merit. Marks are rewarded for both brutality AND creativity. For instance, stabbing someone with a knife will get you one
devil face, but making the effort to stab someone in the eyeball with a poisoned chalice will net you two
devil faces.
Congratulations, Chanel #2! You are the Red Devil's first chosen victim!
The events leading up to her death are absolutely RIDIC, but I mean that in the best way possible. The killer marches into her room, stands in front of the girl, and sends her a death threat via a text message: "I'm gonna kill you now." Chanel #2 looks up, momentarily alarmed, and then immediately replies back to the text: "Wait whaaaaaat???!" She ends up getting stabbed in the neck by the Red Devil.
As if her death wasn't already so bizarre, Chanel #2 uses her final moments to type out one last tweet to her loyal online followers: "I'M DYINGGGG HELPPPP MEEEEE." She seemingly dies, but comes back to life because she forgot to hit the 'Send' button, and then she dies again. *trolololololol*
VICTIM: RIP Chanel #2 (real name: Ariana something)
BRUTALITY:
(knife to the neck)
CREATIVITY:
(+1 for the text message)
OMG! The killing spree continues! The Red Devil's second victim is unfortunately Deaf Taylor Swift, who dies by having a LAWNMOWER literally run over her head. *lolwtf* The poor girl couldn't hear it coming either. Here she was, happily dropping a sick Taylor Swift beat like a total gangsta, just moments before her entire head got sliced off by the Red Devil.
VICTIM: RIP Deaf Taylor Swift (now known as Dead Taylor Swift)
BRUTALITY:
(lawnmower to the head)
CREATIVITY:
(+1 for the Taylor Swift song)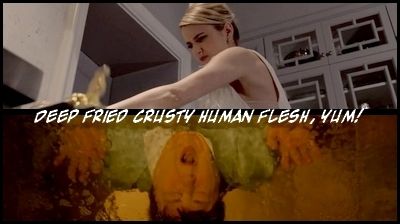 Our final victim of the day is the maid Ms. Bean, or as Chanel #1 describes her:
"that obese specimen of human filth scrubbing bulimia vomit out of the carpet"
. No, our dear Chanel certainly does not mince words. Ms. Bean doesn't actually die from the Red Devil's hands, but she was killed by Chanel #1 herself during a *prank* gone wrong. Just to be clear, Chanel literally dunked the maid's head into the sizzling deep fryer and burned her face off! When you're a twisted sociopathic bitch, your idea of a prank tends to be a bit more hardcore than simply whoopee cushions and plastic tarantulas.
VICTIM: RIP Ms. Bean (now known as Ms. Deep Fried Beans)
BRUTALITY:
(deep fryer to the face)
CREATIVITY:
(+1 for the successful prank)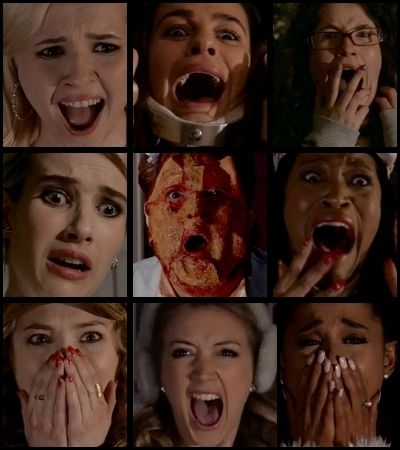 WHY U BITCHES SCREAMING!?!? Like geez, from the way they were reacting, you'd think none of them had ever seen a woman's skin melt off as she digs her nails through her bloody deep fried human flesh!
Chantel #1: She's dead!!!
Grace: WELL OF COURSE SHE'S DEAD! YOU JUST BURNED HER FACE OFF!!!!!
Chantel #1: Shut up! You don't die from getting your face burned off!
Zayday: YES YOU DO!!!
At first, Grace huffs and puffs in undignified anger, threatening to report this incident to the police right away. Somehow, Chantel #1 managed to turn the tables against her, bribing and blackmailing everyone else in the sorority to pin the murder on that tattletale Grace instead. *lolpwnt*
Grace: You're an AWFUL person.
Chantel #1: Maybe. But I'm rich and I'm pretty, so it doesn't really matter.
Afterwards, the sorority sisters made a pact to keep Ms. Bean's death as a secret between them. You gotta love how Chantel managed to convince eight other girls to cover up HER felony. As for the deep fried corpse, they simply shoved it into some random meat locker for safekeeping. *lolololol dis show*
Episode 2: Hell Week

The second episode introduces a legendary new character, Denise Hemphill of Secure Enforcement Solutions. Denise, why don't you introduce yourself?
Denise: ♪ Denise is my name, security is my game, I gotta watch these white girls so I can get paid. ♪ *finger snap*
Originally hired to protect the sorority girls after a string of murders, Denise is supposed to be a street-smart security guard who talks a big game. She may not have a gun, but she is equipped with a nightstick, pepper spray, and a walkie-talkie that she can use to call the police who do have guns.
Chanel #1: What good are you!? We can call the police ourselves!

Denise: Well, with Denise Hemphill on the scene, you're not gonna have to!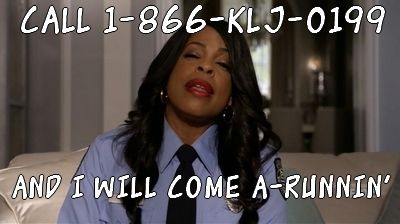 When your feel that your life is at risk, Denise advises you to trust the Secure Enforcement Solutions 3-Step Program:
STEP 1: If you're in danger, scream Denise Hemphill's name real loud and she'll come a-runnin'.
STEP 2: If Denise doesn't come a-runnin', call 1-866-KLJ-0199. She'll be notified on her walkie-talkie immediately and come a-runnin'. (She'd give you her number, but her cell phone is off right now.)
STEP 3: If you can't get through the call because of the long wait times, then GET THE HELL OUTTA THERE. Run away real fast, get outta there, scram! Once you get to a place that you deem to be safe, then call 1-866-KLJ-0199.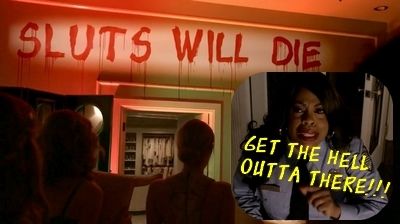 Later that night, the sorority is under attack once again. Denise Hemphill of Secure Enforcement Solution comes a-runnin' to investigate the situation.
Denise: You think the serial killer is still up there!?!?
Dumb Bitches: Yeah! Let's go!
Denise: GO WHERE!?
Dumb Bitches: Upstairs to get the killer before he gets away!
Denise: AWWW AWWW AWWW HELLLLL NOOOOOO!!!!! You just said that you think the killer is up there and that's where you wanna go!? That's INSANE!!! What you need to do is run out this door! *watches the girls run upstairs anyway* YOU DUMB GIRLS ARE SO STUPID! Y'ALL GONNA GET YOURSELVES KILLED!!!
Bless you, Denise. Every horror movie needs to have a character like her. AWWW HELL NAWWW.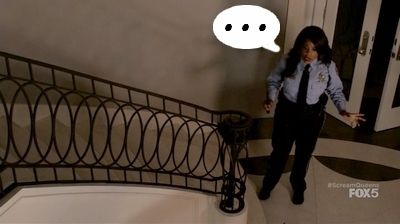 Since all the sorority girls ran upstairs, of course that means Denise is downstairs all by herself. "Yeah, I'm gonna stay here and guard the door!" Denise protests, but changes her mind after five seconds of being alone. "Erm, actually, I'm gonna wait in the car."
Denise runs back to the car, only to find her friend Shondell (who arrived earlier after sneaking off from her patrol at Best Buy) had been stabbed with a knife in the throat!!! This leads to a genuinely gut-busting, laugh-out-loud moment when Denise sees her friend's dead body and immediately freaks the fuck out.
SHONDELL WHY YOU GOT A KNIFE IN YO THROAT!?!?!?
At this point, I was keeled over wiping tears from my face and dying of laughter. I can't help it, just seeing the look of panic in her face and hearing the sheer terror in her voice, on top of listening to those ridiculous words "WHY YOU GOT A KNIFE IN YO THROAT" uttered out loud. Everything about this scene was perfection.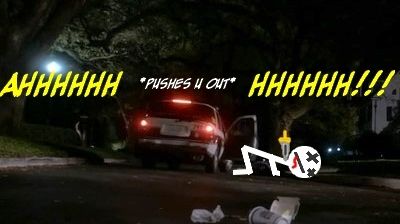 Afterwards, Denise is still screaming when she turns on the ignition, stomps on the gas pedal, and drives away as quickly as possible. All of a sudden, the car stops and then we see her push Shondell's body to the ground before she resumes driving & screaming again. Just when you thought this scene couldn't get any more hilarious, it does. *lmaoooooing so hard*
VICTIM: RIP Shondell (WHY YOU GOT A KNIFE IN YO THROAT)
BRUTALITY:
(knife to the throat)
CREATIVITY:
(+1 for Shondell's tongue-in-cheek reference to the Serial podcast: "Ain't nuthin' going on at no Best Buy parking lot! Name one bad thing that ever happened at a Best Buy parking lot!" *guffaws* *gets stabbed*)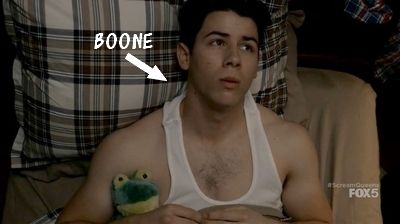 Meet Boone! He is Chad's best friend and behaves just like a typical college douchebro on every campus…except he is GAY. *omg*
Boone: Hey Chad? I'm really scared. You know with a serial killer on the loose, I was having trouble sleeping. You know, it'd really help me feel better if I can just, like, crawl into bed with you?
In recent years, Nick Jonas has been deliberately seeking out gay acting roles (he also plays a gae on that boxing show or whatever). He's also very eager to ~reach out~ to the LGBT community to promote his love for the gays and also to promote his new album btw. Some would say that Mr. Jonas is a career-savvy celebrity that surmised his fan base is of a certain demographic and clearly tries to pander towards them. Some might even call it gay-baiting. I, for one, will never tire of seeing Nick Jonas go gay so I hope he continues playing into this niche for a very long time. :3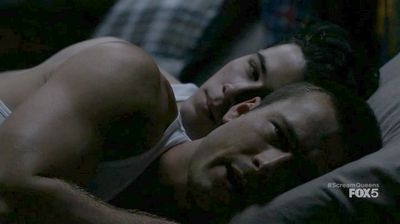 Chad: Hey Boone? Do you remember that time there was a big thunderstorm? You were really scared and you asked to crawl into bed with me, and I was a little weirded out, but you're my little bro so I said okay. And then, you tried to touch my weiner. One of the least fun things in life is when your gay bro, he's gay and he knows you're not gay, and he tries to touch your weiner anyway.

Boone: I said I was sorry! It was a one-time thing.
Fess up, how many of you have touched your best friend's weiner before? Despite his protests, Chad still invites Boone into his bed and lets him be the big spoon to his little spoon. You can try to fight it all you want, but at the end of the day, who wouldn't want to cuddle next to Nick Jonas in their beds?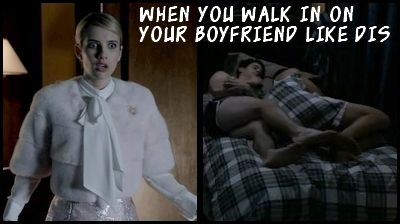 Naturally, Chanel #1 chooses that exact moment to walk into their bedroom unannounced and sees her boyfriend in a rather compromising position with another man.
Chad: This is not what it looks like!
Chanel: HE HAS A HUGE BONER! *points at Boone* I can't believe this, you're gay!?
Chad: Uh, no. Boone was scared, so I let him crawl into bed with me cuz he's my bro.
Chanel: He's your GAY bro who has a big boner for you. Why don't you go in there and ogle his big old BRONER!?
Chad: I'm sorry that everyone wants to have sex with me, I can't help that. Newsflash, Chanel, I'm hot. Everyone wants to get with this. Women, men, animals in the zoo, plants probably.
BRONER is the word of the day and I encourage everyone to obnoxiously include it into your everyday conversation as much as possible.
OMG. There's an
incredibly
erotic scene of Boone working out. This may seem like an ordinary workout session, yet it was still inexplicably so damn hot. Watch the cameras pan down to his biceps, his shoulders, his armpits, his chest, and even his nipples. This scene will tease you and turn you on as much as a PG-13 rated show is allowed to make you feel.
In fact, I'm not sure if such raw, unadulterated eroticism can be described in words, but try I must. Imagine Nick Jonas, shirtless obviously. He is hot and sweaty, flexing and grunting, kissing his biceps and making all sorts of orgasm faces. Now imagine you watching the show, mesmerized obviously. You are wet and moisty, drooling and salivating, reaching your hands downwards and grabbing a box of tissues.
In the next scene, we see that Boone has lost his life and also lost all of his clothes along the way. His bloody lifeless body is sprawled on a table surrounded by candles, and he is somehow stripped down to his skivvies even though he was wearing shorts in the previous scene. Just when you thought Nick Jonas shirtless scenes couldn't get any more shamelessly gratuitous, his threshold goes a little lower. *lol*
When the Dicky Dollar Scholars (the golfing fraternity on campus) discover Boone's body, all five guys burst into the most hilariously outlandish screams ever. Think sissy screams and wringed wrists and crossed legs and gaping O faces. Y'know, this show may not have the strongest actors, but everyone in the cast can give a damn good *scream face*.
Dayum, just realized that I'd still hit Nick Jonas even when he's lying in a morgue. Poor dead gay Boone…or is he really dead or really gay at all?
In a shocking twist (no, not really lol), Boone comes back to life, rips off the fake injury gash on his throat, and even flashes an evil little smirk. Holy shit, Boone actually faked his death! And he's working with the Red Devil too!
In case you're sceptical about how Boone managed to stop his breathing and his heartbeat so much that he even fooled a professional coroner, the show actually addresses this in a much later episode, believe it or not. Whether the explanation seems plausible is a whole different story though. Nevertheless, congratulations on covering your illogical plot holes with even more illogical solutions, Scream Queens!
The rest of this episode was focused on Grace and her boyfriend Pete, who are investigating into the sorority's past. Their scenes can be summarized in three words: BORING AS FUCK.
However, there was one particular scene that piqued my interest when Pete took off his clothes and stripped down to his underwear. ;D He looked v. sexy despite doing dorky things like *sniffing his armpits* and *caressing his hair*. Pete was obviously hoping to get some tail, but unfortunately Grace is a bit of a boring prude so there'll be no hanky panky between them until they catch the serial killer. Nude Pete is literally the only reason why I've any desire to watch their boring ass investigation and now Grace wants to take that prospect away from me too. "Umm…can you put some clothes on?" Grace winced uncomfortably during this scene. Like wtf girl, stop talking, you're the worst.