Hanna is stupid enough to confess to Detective Wilden's murder…or is she? ;O Also, Emily's mom has an emotional meltdown; Spencer continues the dead mama investigation.


B-

Not bad!
Watch out, everyone! Hanna has a brilliant plan this episode!
Hanna: I'm going to confess to killing Detective Wilden!

Hanna's fake murder confession OMFG

OHHHH NOOOO!!! HANNA MARIN, WHAT ARE YOU THINKING!? WELL, CLEARLY YOU AREN'T THINKING *ANYTHING* BUT WHAT THE HELL ARE YOU DOING!? STOP, GURL, JUST STOP. LOOK AT UR LIFE & LOOK AT UR DECISIONS. HAVEN'T YOU CAUSED ENOUGH DAMAGE TO YOUR MOM'S CREDIBILITY ALREADY!? DON'T CONFESS, HANNA! DON'T DO IT, YOU SILLY OLD GOOSE!
Is there somewhere we can donate a *brain* for this terminally stupid girl to stop her from making these terrible life decisions? At this point, I won't be surprised if Hanna shoots a random police officer just to keep up her lie & prove that she's capable of killing Detective Wilden. That's some serious Hanna logic right there.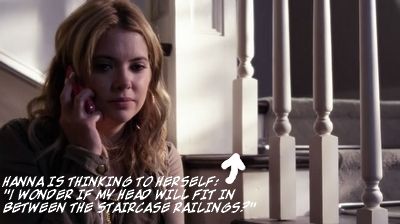 This is what Hanna thinks: *ZOMG THE JUDGE WON'T CONVICT ME BECAUSE I'M YOUNG & HOT & ONE OF THE MAIN CHARACTERS, SO I'LL SURELY BE GRANTED LEGAL IMMUNITY POWERZ*.
Just when you think she couldn't get any dumber, the walking human disaster strikes again! But truth be told, if I could choose between them, I'd probably do a *prison swap* and put Hanna behind bars (can you imagine if Hanna's next love interest after Caleb is her prison cellmate???) while Ashley gets to roam free and continue her endless crime spree (killing Detective Wilden was only the beginning. Next stop: FBI'S MOST WANTED LIST, BABY~)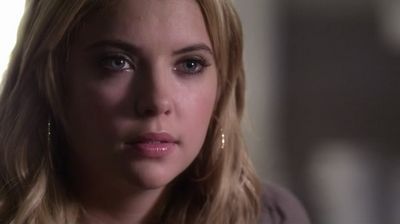 On the bright side, at least we know Hanna can't make the situation any worse…oh wait.
Hanna: Hey Mona, you're going to help me with my confession!
The most tragic part about Hanna's plan is that she actually enlisted Mona's help to rehearse for her murder confession.
Mona: Why me?
Hanna: Because this is going to be the biggest lie I've ever told. I need you to make it sound perfect. Me, Spencer, the others…we all tell lies, but you're the only one who actually knows how to live in a lie.
Hanna couldn't ask anybody else because every sane person would be like *omfg u dumbass* whereas Mona is the only one crazy enough to go like *o this sounds chaotic & crack so i'm obviously in~
*
Mona: You're taking an awful big chance.
Hanna: I can't let my mom go to prison!
Mona: I mean, talking to me. Suppose I'm the one who actually set up your mother?
LMAO. I love how Mona tried to pose this as a ~*hypothetical*~ scenario when we all know it's the 100% truth. Suppose I'm the one who planted fake evidence & framed your mom, hehe!
Gurrrrl, Mona is laying it on a little bit thick, isn't she? Ironically, Hanna is still oblivious even after Mona outright admitted to the crime. Hello Hanna, the real culprit is sitting in front of you and she just told you what happened!!!
Without a doubt, Mona is the star of the episode. And she's not just a star, she's a fucking LEGEND.
1.) First of all, how many people do you know can actually *coach* and *consult* somebody else on how to commit a murder? Like what the serious fuck. Maybe a FBI profiler or a seasoned criminal would have the expertise, but even they aren't as knowledgeable as Mona. She's like some kind of diabolical teenage mastermind who wrote the advanced manual on how to kill a bitch. She wrote the entire manual, she wrote all the guidelines, and she even wrote the fucking glossary. This bitch is a real professional and she deserves some mad kudos~~~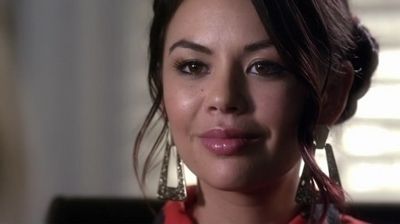 2.) Second of all, Mona's EPIC BITCHFACES are giving me infinite life-force, oh my god!!! This bitch was flashing out countless evil looks, evil smirks, evil nose twitches, evil eyebrows, and there was practically evil coming out of her pores! Sometimes, Mona isn't even doing or saying anything at all, but the camera pans over to her evil face and she has just the most sinister expression that instantly makes my soul shrivel in fear. Oh my goddddd, I can't breathe anymore because this bitch is just TOO MUCH!!!!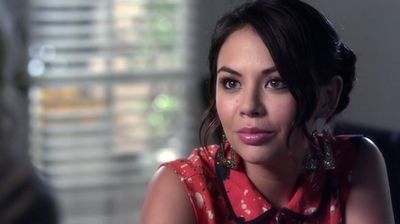 3.) And finally, why is Janel Parrish not a main cast member with one of the leading roles in Pretty Little Liars yet!? She plays her role so damn well! This chick has been KNOCKING IT OUTTA THE PARK in every goddamn appearance for the past couple of seasons, and she needs even more accolades than she's getting right now. None of this recurring shit is worthy for an actress of her calibre, okay? She should have been in every episode of this season, forefront and centre stage. And if you had to cut out some of the other liars' scenes, then so be it. What the fuck are you waiting for, PLL!? Give her a new contract and main billing immediately!!!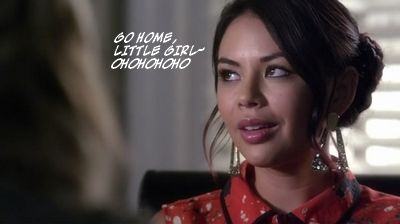 It was complete laffos watching Mona and Hanna do a police interrogation role-play:
Mona: What do you think you're doing here?
Hanna: I'm the one who killed Detective Wilden. I did it.
Mona: *rolls eyes* Go home, little girl. You're just trying to save your mother.
Hanna: No, she's just trying to take the blame. I did it!
Mona: YOU CAN'T JUST KEEP REPEATING I DID IT!!! YOU HAVE TO TELL THEM HOW YOU DID IT AND WHY YOU DID IT.
Oh my god, Mona is taking this confession *SO SERIOUSLY* lol~ And listening to her shout "Go home, little girl!" towards Hanna: I DIED. I just about died from laughter!
Mona: What was that like? You killed someone. He was as close to you as I am. And you shot him. What did that feel like?

Hanna: Okay, what the hell kind of question is that!?!?
Mona: The sort of question that'll let them know if you're lying or if you're telling the truth! Make me believe you were there! Tell me what you did!
Mona is sooooo fucking sick and twisted, oh my god!!! Normally saying "I shot another human being" is gruesome enough for a murder confession, but this morbid bitch wants to hear ALL the vivid details, including how the blood splattered over her face when she blew out Detective Wilden's brains! Good lord! I won't be surprised if Mona gets her kicks when she's sexually fantasizing about murdering other people. Like holy shit, this bitch is DARRRRRK.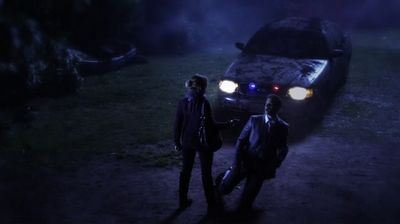 The best part about their role-play is seeing a
re-enactment
of the murder, where Hanna shoots Detective Wilden in slooooo-mooooo.
Mona: He hurt your mom. He wants to hurt you. He has all the power. Nobody is going to help you. You're the only one in the world that can do anything about it. You're all alone out there. Bugs are getting in your hair. And the lake smells like something died in it. What happened next!?
Hanna: *bang*
Mona: TWO, HANNA. YOU SHOT HIM TWICE.
Hanna: Oh sorry. *bang bang*
holyshit @ Mona's first-person account of the story. She got every nitty gritty detail nailed down, including how many times Detective Wilden was shot. Bitch ain't playin' around!
P.S. Was I the only one who noticed Detective Wilden's massive bulge when his dead body was sprawled across the ground? LIKE WHOA. Unless he kept his firearm in a very strange location on his body, it seems like Detective Wilden was packin' some heat downstairs!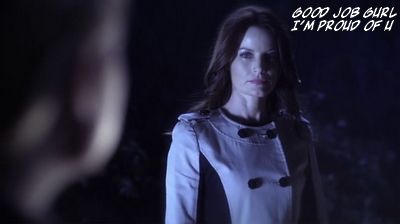 After Hanna killed Detective Wilden, there was an absolutely amazing shot where she turned her head around and Mama Marin was staring back at her, and her face was beaming with pride. BWHAHAHAHAHA. Oh my god, don't you wish that was actually the real version of events!? Can you imagine how much better this storyline would be if Ashley and Hanna tag-teamed on Detective Wilden and murdered his sleazy ass together? *starts praying* Please let this be the reality, please let this be the reality…
Caleb finally shows up to save the day and stop this madness from happening, but Hanna continues being the dumbest bitch by turning down her boyfriend's help. *headdesk* Oh my god, in what bizarro universe would you put all of your trust into Mona and yet treat Caleb as the enemy!? WTF GURL!? Hanna Marin, please tell me what's going on inside that miniscule brain of yours. Is your head just an empty vessel for containing sand and water!? Please help me understand UR LOGIC!!!
Hanna: If my mom doesn't get out of jail, I have to move in with my dad, his wife, her blonde tarantula of a daughter, so compared to that, talking to Mona makes all the sense in the world!
In other words, Hanna went through all this trouble just because she'd rather rot in a prison cell than share living quarters with Isabel & Kate.
Hanna: We've been through a lot, so we're just trying to move on!
Caleb: Hanna doesn't move on. She goes right through. Don't you, Mona?
Mona: I don't have the slightest inkling of what you're talking about.
I don't think Caleb understood what he said either, and probably just blurted out the first comeback that his brain could process. But hey, it sounded like an insult so that's good enough for me~ *lol*
Caleb: Hanna, it's insane! First of all, you can't do it! Second of all, you would never pull it off! And third, I'm not going to let you do it!!!
And this is why I love Caleb. He took the exact words out of my mouth. I'm so glad he delivered some home truths to his girlfriend. Seriously, the most incredulous part about Hanna's whole scheme is that she thinks she's smart enough to pull it off. GURRRRRRL. This dumb ho can't even get her times tables straight without mixing up the numbers, so I don't have faith that she can confess to a murder without majorly fucking up. Hanna wouldn't be able to utter a single word before Lt. Tanner pounced and ate her for breakfast, lunch, dinner, dessert, and then breakfast again. Hanna Marin – know your limitations, girl!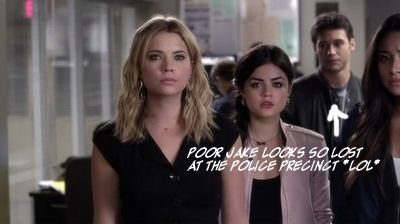 Thankfully, we're all spared from the second-hand embarrassment of Hanna stumbling through a half-assed murder confession, since Mona ends up taking the blame instead. She was all like *hai gurl hai* and *i'm actually the one who killed detective wilden lolololol* and *ok thx for playing*
Who saw that coming, huh? This was a pretty good twist if only because Hanna confessing = COMPLETELY STUPID yet Mona confessing = COMPLETELY CRAZY, which is always more entertaining to watch.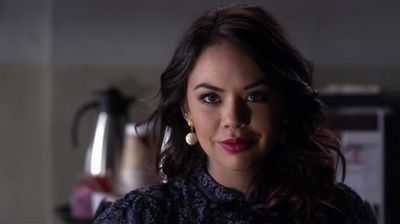 In conclusion:
1.) FUCK. YEAH. WHAT A BALLER~~~ Seriously, who's ballsy enough to come strutting into the precinct and outright confessing to killing a police detective? And unlike Hanna, this bitch is actually *clever* and *devious* enough to get away with such an outrageous lie. Oh Hanna, you silly goose, just take a motherfucking seat and let Mona show you how it's done!
2.) MONA VANDERWAAL = DIVINE MAGNIFICENT GODDESS WORTHY OF OUR DAILY WORSHIP AND ETERNAL ADMIRATION. I'm a total Mona ~*believer*~ after watching this episode, so I'm fully aboard her crazy train wherever it might take me. You go, girl!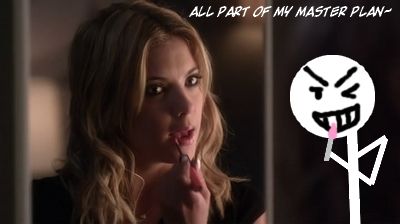 CRACK CONSPIRACY THEORY: Do you guys think Hanna might have planned this all along!? It's entirely possible that she was never going to confess to the police, that was just her cover-up story. Her *real* intention was to rope in Mona, make her feel emotionally invested, and then manipulate that girl into giving a fake confession. Hey, you can't deny her end results: Mona got arrested + Hanna created reasonable doubt for her guilty mama. Not bad for a day's worth of work!
Maybe…just maybe…Hanna Marin is a secret genius who knows EXACTLY what she's doing! Sorry Mona, but it looks like you just got *played* by the ultimate *playa*~~~
Emily reunites with her old lesbian flame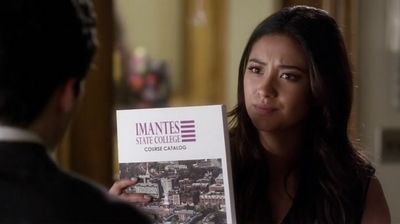 Poor Emily is trying to cope after A gave her an ~*extreme home makeover*~ last episode. Hilariously enough, it seems like A might have driven the car into Emily's house like a remote control toy, because the police couldn't find any traces of a driver nearby. Then again, this is the same A that managed to drag a sunken police car out of a lake, so we should just consider it as one of A's many incomprehensible superpowers.
Anyway, it's hard to focus on school and college applications when you're basically homeless, but Mama Fields was like: "Unless you want your future to fall apart like the foundations of our house, you better go to school and graduate~" Pam is right, and I think a degree in architecture is looking pretty useful to Emily right about now!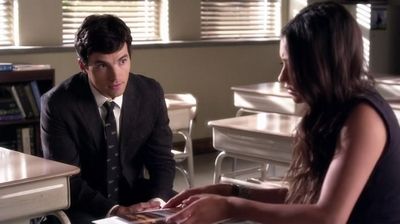 Unfortunately, there aren't any other teachers employed at this high school, so we're stuck with goddamn Ezra once again. This season, PLL has been putting his character in these one-on-one scenes with each of the pretty little liars, and it always he feels like he's trying to hit on the girls, or he's acting like a giant creeper, or doing both at the same time. I'm sorry, but I just don't feel comfortable seeing Mr. Fitz alone in a classroom with a female student, and I need to be alert with a rape whistle in my mouth every time I'm watching one of his scenes.
It doesn't help that the camera keeps lingering on Ezra's *menacing* expressions at the end of each scene. Every time the liars have their backs turned, his mask slips and you can see the evil brewing in his eyes. Is he supposed to look like a serial killer deliberating on his next kill???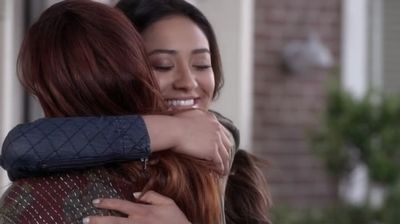 Ezra was basically grasping at straws when he said that Emily volunteering at Haiti for three weeks will make a huge difference in her college application (at this point, Emily has a better chance of getting into a good college if she slips a $100 dollar bill within her application, I'm jes sayin') but Emily takes his advice and asks her former supervisor at Habitat for Humanity for a reference letter.
Emily meets up with her supervisor Zoe for a coffee date. This is one of those scenes where Emily thinks she's being "charming" and "friendly", but in reality Zoe has the hots for her and she only travelled all the way to Rosewood because there's a possibility that they might hook up. If Emily was just some ugly guy, you know Zoe would have been like: "Okay, here's your reference letter in an e-mail attachment. Have a nice life and never bother me again."
Here's what you need to know about Zoe:
1.) This bitch wants Emily SOOOOO BADLY. She showed up on screen with her tongue wagging out, practically drooling and salivating at the sight of Emily.
Zoe: This town is almost as photogenic as you. Almost.
OH MY GOD, SIMMER DOWN ZOE. Most people just say "Hello!" or "How are you?" as a greeting! I was surprised Zoe didn't drop down on her knees and start licking Emily's clitoris on the spot, because you know this desperate ho was ready to do it on a moment's notice.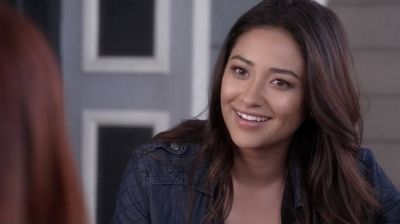 Emily: Was this really on your way?
Zoe: Close enough. I figure when I got your email, it was worth the detour.
2.) Oh please. You know Zoe was probably halfway across the equator preserving the rainforests in Guatemala until she received Emily's email, and then she was like EMILY BECKONS ME! I MUST DROP EVERYTHING AND BOOK THE FIRST FLIGHT HOME TO MEET UP WITH HER!!!
Zoe: I was just worried that you're still dealing with losing Maya.
Emily: I still miss her…
Zoe: You don't have to tell me. I saw your face when you got off the plane. I thought it would take an entire summer to rebuild you.
3.) Can anybody say ~*love at first sight*~??? There were probably a lot of ugly people on her expedition team that summer, so as soon as Emily stepped foot out of that plane, Zoe's libido immediately went like "oh baby i wanna piece of dat~ :D"
4.) BTW, I love how Zoe subtly brought up Maya as a topic of conversation, so that she can find out whether Emily is single/available to date right now. VERY SMOOTH ZOE. I SEE WHAT YOU DID THERE GURL~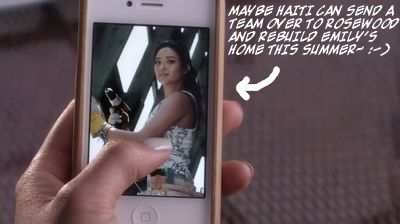 One of the most bizarre moments came when Zoe reveals that she still keeps pictures of Emily on her cell phone, even though this expedition trip happened MONTHS AGO. Let's make it clear these weren't group pictures or anything. They were just solo pictures featuring Emily, and there was an entire slideshow gallery on Zoe's phone that she can easily access with one click. Like holy crap, I know Emily is hot stuff, but having this many pictures of her on your phone might be verging on an unhealthy obsession!
I also find it very interesting these were all pictures of Emily wearing tiny tank tops as she holds various power tools in her hand. *knowing look* Mmhmm. I think we all know these pix kept Zoe's motor running during many lonely nights in Haiti, yes gurl yes.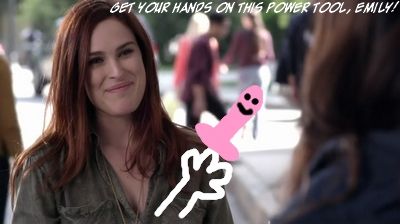 Zoe: I could write a glowing recommendation to you in my sleep!
Very interesting choice of words there, Zoe. I wonder what Freud would say about using "you" and "I" and "sleep" in the same sentence together.
Zoe: You don't need to sell yourself to me, Emily!
WHOAAAAA. Who said anything about Emily selling her body to you!? Get your mind out of the gutter, Zoe!!! WHAT A PERVERTED BITCH WITH FILTHY ONE-TRACK MIND.
Mama Fields showed up just in time to vagblock her own daughter. I always thought Pam was a very private person, but for some reason she couldn't shut the fuck up and blurted out all of their family's dirty laundry in front of Zoe.
Pam: OH HAI GURL, I'M CURRENTLY UNDER POLICE INVESTIGATION + DID I MENTION OUR FAMILY IS LIVING IN A MOTEL…NICE TO MEET YOU, ZOE~
Emily: Nobody asked you, mom. Nobody asked.
Afterwards, Zoe was like *gurrrrrl u living in a motel lmao* but deep down you know this is a MASSIVE TURN-ON for her because a hokey pokey humanitarian like Zoe gotta have some kind of homeless chick fetish. I bet she cruises for da ladiez at soup kitchens & women's shelters, ya know?
Next summer, Zoe is putting together a lesbian crew to build tepees and toupees in Nicaragua. This is perfect timing since Emily will probably be broken up with Paige by then, which means #Zemily can become an official couple and lezzzz it up together as happy native children dance around them, or whatever the hell they do in Habitat for Humanity.
Emily: She even said that she'd give me some leadership role. Maybe team captain or something, and supervise the new volunteers.
This Zoe bitch, man. She'll literally say anything to get inside Emily's pants. Oh sure, you have approximately three weeks of official qualifications, but you can still be the *leader* or *team captain* or *humanity superhero* or whatever imaginary title she can come up with as long as Emily goes on this trip with her.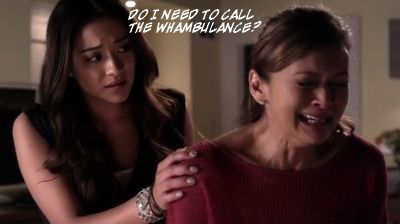 Emily is super excited to tell her mom about going on this humanitarian trip, which is also a fantastic opportunity for her future. But evidently, seeing her daughter so happy must be 2MUCH2SOON for good ol' misery guts Pam, who responds by having a *major fucking meltdown* all of a sudden. This unstable bitch insists there's nothing wrong, yet she starts sobbing uncontrollably and crying like hell. I'm not too sure what's going on with Emily's mom, except she clearly has some unresolved psychological issues that needs to be sorted out with her therapist ASAP.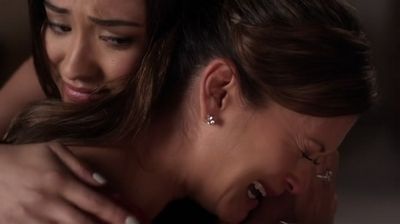 I have mixed feelings about Pam's meltdown. On one hand, the poor woman is going thru a shitload of trauma right now, including social services + unemployment + financial woes + home disaster + midlife crisis + menopause. The straw that finally broke the camel's back is Emily being an ungrateful child who'd abandon her family to go on an overseas vacation, which eventually reduced Pam to a sad blubbering mess. All kidding aside, this scene was raw with emotions and Pam's vulnerability felt extremely genuine, so I do feel kinda bad for her. Aww!
On the other hand… SHIT PAM, GET IT TOGETHER GURRRRRRL! UR LIFE = *lol hot mess* & CRYING ABOUT IT AIN'T GONNA MAKE UR DOODOO STINK LESS~~~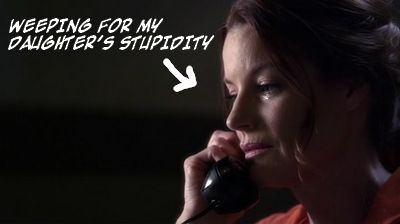 NOT YOU TOO, MAMA MARIN! WHY ARE ALL THE MOMS CRYING IN THIS EPISODE???
OMG STOP THE WATERWORKS!!! LADIEZ, MAKE LIKE A TAMPON AND SUCK IT UP.
Mike Montgomery's first gay hook-up

This episode, it was revealed that Mike has been taking secret martial arts lessons…
1.) Apparently, Mike wants to learn self-defence because his teammates are bullying him or some shiz? Once again, PLL keeps his storyline on the downlow, so we *hear* about stuff happening but we don't actually get to *see* the bullying take place. It's rly strange that Mike keeps having these storylines where he's the main focus, yet none of the scenes feature him at all. What gives? -_-"
2.) Does anyone find it strange there are so many fighter dudes in Aria's life? So far, the list includes: Jake, Mike, Holden, and even that Malcolm kid took a karate class or two. Is there some fight club in Rosewood that we aren't aware of? What's going on?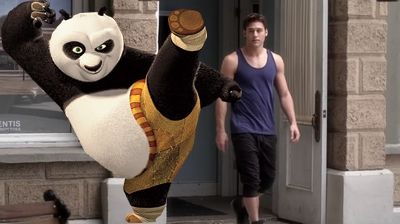 3.)
Who thinks it's NOT a simple coincidence that Mike signed up for the same class with the same instructor that his sister hooked up with? Part of me thinks he has a deliberate ~*revenge plan*~ where Mike will seduce Jake in order to get back at Aria for kissing Connor. "NOW YOU FEEL THE SAME PAIN & BETRAYAL THAT YOU INFLICTED UPON ME. YOU STOLE MY BOYFRIEND, SO I'M GONNA STEAL YOURS TOO." [spoiler alert for when Aria catches Mike and Jake in a compromising position.]
4.) Mike probably enrolled in the class as soon as he saw Jake in that tank top filled out by those biceps. Mmhmm. Can you blame him? I bet he'd love nothing more than to let Jake pin him down on the dojo mat and shove a sweaty fist down into his…Mikehole.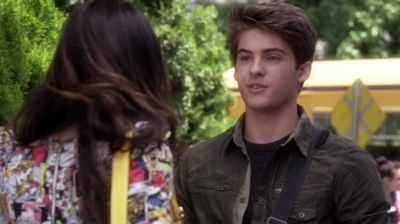 Mike tells his sister that he'll be "out late with the team tonight", but he gets defensive when Aria asks him a couple of standard questions.
Aria: What time do you think you're gonna be home…
Mike: Just don't wait up. It's important! I need to spend time with these guys!
Aria: Why? O_O
Aria is slow on the uptake and can't read between the lines, so let's break it down for her: MIKE IS GOING OUT TO GET LAID. Duhhh! "Just don't wait up" is like the universal code for "Imma get lucky tonight~" Evidently, there's a LGBTQ mixer happening and Mike wants to find himself a rebound after his break-up with Connor, so stop cockblocking him sis!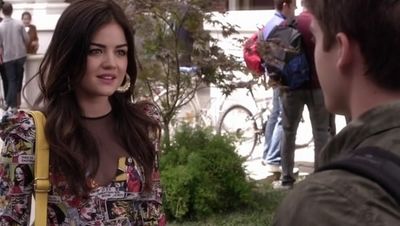 P.S. Aria, please stop ripping out pages from your little brother's comic books to make up your fashion wardrobe. Contrary to what you may think, comic books are normally for reading, not for dressing up.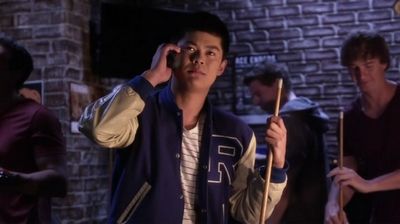 Later that night, Aria starts freaking out because her brother wouldn't answer his phone.
Aria: Who's this?
Douchebag: Mike's butler. Who's this?
Aria: It's his sister. Can you just put him on the phone please?
Douchebag: Hey guys! Guys! Is Mike back there? *laughs* He's not conscious. Yet.
WHOAAAA. He's already unconscious!? What is Mike doing back there? SOUNDS LIKE DRUGZ. It seems like Mike might be consuming a lot of cock and cocaine at this party of his!
Aria: Mike! Where are you!? Your friend said that you were unconscious!
Mike: Undressed!?
Aria: No, not undressed! Unconscious!
Mike: He was just messing with you!
WHOAAAA. It's not even 9PM yet and Mike already found himself in a state of undress. That slut moves fast! By the way, "undressed" and "unconscious" are two words that sound completely different, which goes to show you what is exactly on Mike Montgomery's mind tonight!
Actually, I'm beginning to think that Mike might be at a gay bar. The surroundings look a little seedy, and these guys seem very fond of their sticks for some reason. Plus, this so-called party of his seems to be a total SAUSAGEFEST. Mike is surrounded by men (drunk men, I might add) and there isn't a single female in sight. I'm having a difficult time picturing a teen party hosted by straight guys without any girls in attendance…it just doesn't add up. I'm not really suggesting anything here, but all signs point to GAY GAY GAY.
Mike: I'm fine! I might just stay at Billy's tonight.
Aria: You're not coming home at all?
Mike: It's three blocks away! I'll see you in the morning! *hangs up*
WHOAAAA. Staying over at a guy's house and not coming home until the next morning? That could only mean one thing! I HOPE MIKE REMEMBERS TO USE PROTECTION!!!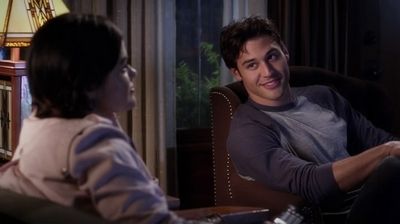 Jake was also around for a couple of scenes in this episode, but I don't really have a lot to say about him. I can't rag on the guy too much because he's pretty nice to Aria, but unfortunately that's all there is to him. Jake is a very nice guy with a very nice personality who says very nice things to Aria. Yep, yep, yep.
I think the writers need to understand that Jake's appeal is entirely *physical* and not at all *verbal*, so less clothes along with less dialogue is the right direction for his character. Kthx~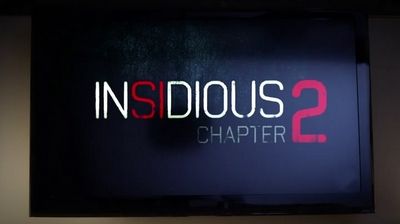 Jake: Hey Aria, wanna make out?

Aria: NO JAKE, THE PURPOSE OF THIS SCENE IS FOR US TO PLUG THIS ADVERTISER'S MOVIE. BROUGHT TO YOU BY OUR SPONSORS, INSIDIOUS: CHAPTER 2. COMING TO A CINEMA NEAR YOU. ALSO AVAILABLE IN 3-D!!!
Jake: Have you seen the first one?
Aria: YES. MANY TIMES. BECAUSE I BOUGHT IT ON DVD, BLU RAY, LIMITED COLLECTOR'S EDITION WITH HOURS OF UNSEEN FOOTAGE, SPECIAL CREW COMMENTARY, AND THE DIRECTOR'S CUT. ALSO AVAILABLE ON NETFLIX!!!
This week's #deadmama footnote

Meet Whatshisface! Beckett Frye or whatever his name is. He's probably some actor who auditioned for the role of Wren and got rejected after a few callbacks, so they created some miscellaneous role as a consolation prize. Here, dude, you can be some nondescript intern working for Spencer's mom. Call yourself Beckett or whoever you like, it doesn't really matter.
Beckett: I'm Beckett! Beckett Frye. I'm interning with your mother. Goldberg Penn Law School alumni fellow.
Wow, that's a very detailed backstory for an entirely irrelevant character, especially since nobody asked for his life history! Okay, thanks for sharing Beckett!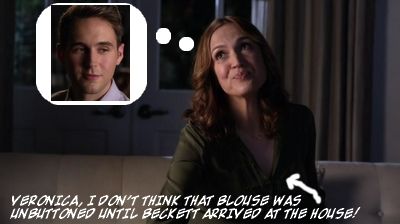 The only interesting fact about Beckett is that Mama Hastings is totally TAPPING DAT. Yeah, Veronica tried to be discrete about her affair, but she gave herself away with this following exchange:
Veronica: What do you think of Beckett?

Spencer: I…don't think anything yet?
Veronica: You'll like him.
He's smart.
First of all, when have you heard Veronica compliment anybody during all four seasons of the show? That's like an instant giveaway right there. And second of all, Mama Hastings usually has a face of thunder, so I think it's very telling when she was *ALL SMILES* giggling over how smart is her precious little law intern. Ohohoho, Veronica has got it BAD for this guy!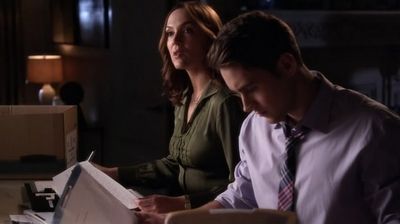 Spencer: *arrives home* Hi!
Veronica: Honey, your dad wants you to meet him at the club for dinner. We're going to be working here for a while.
Hint hint: Spencer, get out of the house so that mama can get busy with this rosy cheeked intern. OMG! The nerve of this woman, cheating on her husband under his own roof! I know Papa Hastings hasn't appeared for a while, but that's still no excuse to cheat on your man! Keep your panties on, Veronica!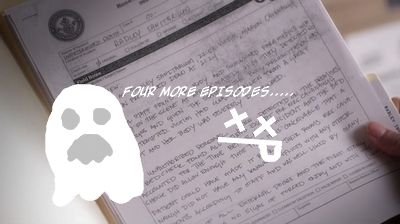 I thought Mama Hastings was working on Detective Wilden's case, yet for some reason
Pretty Little Liars
still managed to sneak in a clue about Toby's dead mama investigation. OH MY GAWD HOW IS THAT EVEN POSSIBLE!?!? GODDAMNIT! LEAVE US ALONE, TOBY'S MOM!!!
Does anyone feel like we're in a horror movie and there's just no escape from the ominous terror that is Marion Cavanaugh? Every episode, I feel we're in the clear of her unholy presence, but suddenly there's some DEADMAMA bullshit just right around the corner. You can never get away from her! Her dead spirit haunts us in every episode, every storyline, and every scene. This woman is worse than A! She's literally EVERYWHERE on this show!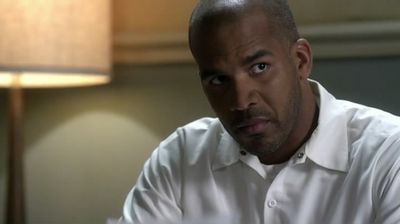 If there's one good thing to come out of this mess, I'm extremely glad to see the return of Eddie Lamb, one of my random favos from last season. Sadly, even Eddie's sheer adorableness cannot salvage this dead mama storyline. From what I could gather, I believe there was some ~*major breakthrough*~ with the investigation this episode, but I honestly can't be arsed to write about it.
Instead, here's a quote from Eddie that perfectly encapsulates my thoughts!
Eddie: Spencer, if I were you, I would put this back where I found it and forget I ever saw it. It's not going to change anything. Not for you, not for Toby, not for Toby's mother.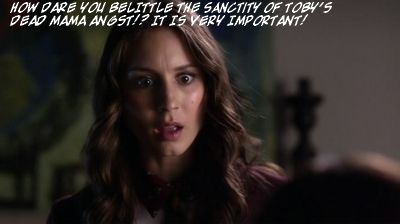 It's kinda funny because we actually have multiple characters tell Spencer that the DEADMAMA storyline is irrelevant, yet she still refuses to listen to reason.
Spencer: That is not useless! That's about Wilden, and Radley, and Toby's mom!
Veronica: It's not relevant! Honey, nothing we do or say is going to bring back Toby's mother! If you want to help Toby, help him move on!
How dare you, non-believer! One day, the truth will come out about Marion Cavanaugh being our merciful lord and saviour! You may laugh now, but we'll see who's laughing when the holy mother rises from the dead to bless humanity with her divine justice, goodness, and grace!
Read more recaps!