Welcome to another filler episode of Pretty Little Liars! Feel free to skip this episode except for the last thirty seconds where A drives a car straight into Emily's house.


F

Filler!
Hey Mama Marin, we have some good news and some bad news for you! Which one do you wanna hear first?
Well, the bad news is that you'll get a 20-year jail sentence if you're charged with voluntary manslaughter. The even worse news is that you'll face the death penalty if you're charged with first-degree murder. But the good news is that you look really *glamorous* in your prison jumpsuit, which must be comforting to hear since you'll be wearing this outfit for quite a while!
Mama Marin is a guilty bitch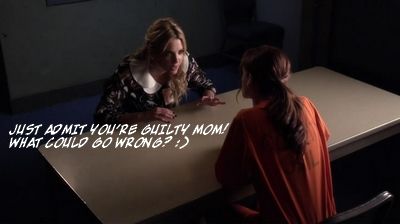 Hanna encourages her mom to take the guilty plea if it means she won't be *lolded*. But since Hanna thinks taking the guilty plea is the smartest move, it's usually a good rule of thumb to do the exact opposite. No offence, but I wouldn't take legal counsel from the girl who is basically a walking brain aneurysm. You can listen to what Hanna has to say, as long as you use her advice for your 'what-not-to-do' guidelines.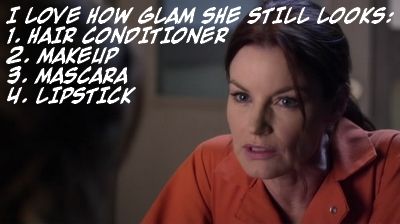 Mama Marin was like OH HELL NO to admitting that she's a guilty ho because she'll stay in denial until the bitter end. To be honest, it ain't looking optimistic for her either way, whether she pleads guilty or not. At this point, her best bet is to plan an elaborate ~*prison break*~ where she adopts a new identity as she runs away to start a new life in Mexico.
If you thought Hanna's mom was a badass before she got arrested, just wait until you see her full potential once she's an outlaw on the run! And with her newfound prison connections, the biggest baddest crime boss in Pretty Little Liars will be unstoppable!
Is anybody surprised they took it as far as they did with this storyline? I thought they'd spend a couple of episodes throwing shade at Mama Marin before her name gets cleared, but I never really expected to see her behind prison bars for real! Like holy shit, you know!?
Poor Ashley tho. When she killed Detective Wilden, she probably thought she'd get away with it for a long time. I mean, four seasons later, Alison's murderer is still roaming free…not to mention whoever killed Ian and Garrett is still at large as well. There've been so many murders gone unsolved, yet Mama Marin's ass gets nailed just six episodes later. Who knew the Rosewood Police would actually be competent for this one and only time?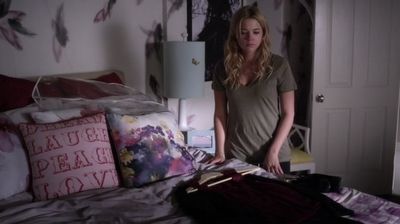 Hanna spends most of the episode sulking, moping, and crying on cue. Here's a scene of Hanna staring at her clothes on the bed solemnly, which is supposed to be a VERYSAD scene because the slow dreary music in the background tells us it's VERYVERYSAD. Let us watch a precious wittle tear slowly trickle down our heroine's face. OMG SOOOOO SAD~~~
Cheer up, Hanna! Look on the bright side, at least your boyfriend will ~*ALWAYS*~ be there for you forever and for eternity! ……oh wait.
Caleb: You're not going to lose me, Hanna. I promise. As soon as I find something to get these murder charges off of her back, I will be right there beside you.
LIEEEEEEES. SOOOOO MANY LIEEEEES. I think it's very telling that Caleb never visited his girlfriend in this episode. I guess he was too busy studying the scripts for his spin-off show Ravenswood to care about Hanna anymore. Here's Tyler Blackburn probably asking his agent if he could end his stint on Pretty Little Liars early so that he can start filming his new show right away.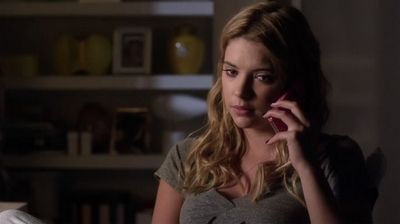 Hanna: Just promise me you won't do anything stupid, Caleb.
Caleb: I would never do anything stupid, Hanna.
Hanna: Never? You let me into your life.
Caleb: I think that was the smartest thing I've ever done.
I BEG TO DIFFA~~~ First of all, rofl @ the irony of Hanna chastising others for doing anything stupid. And second of all, it's time for Caleb to aim for higher life aspirations. Maybe take an IQ test and then re-evaluate your definition of 'smartest thing ever done'.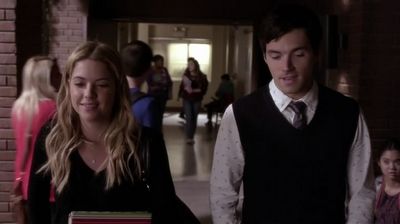 Like a dangerous predator on the prowl, Ezra pounces on Hanna in the school hallways and immediately starts hitting on her. She was like *hehe u r such a decent guy mr. fitz
* and he was like *hiding mah erection
* around her. It has been a while since he tasted some underage poon and unfortunately Hanna checks all of his boxes:
1.) Her mama is out of the way, so no pesky parental interference with this relationship!
2.) Emotionally vulnerable girls are easiest to manipulate for a shrewd operator like Ezra.
3.) She'll be single in a couple of episodes, so better start parallel parking into that vacant space!
Ezra: How are you doing?
Hanna: It's not that easy. Everywhere I go, people are staring at me all judgey-eyed. Like that lady in the book! You know the one?
Ezra: There're a lot of books in the world, Hanna. Like…really a lot.
Well, we can easily count the number of books that Hanna has read on one hand, so that should narrow down the list. Actually, who else is surprised that Hanna would make such an uncharacteristic reference to any piece of literature? WTF? Maybe she was just talking about an advertisement she saw in the latest issue of People magazine. That's considered a book too, right?
Hanna is getting the *judgey eye* from all the other students, including these two muppets in the school hallways. Luckily, Recap Everything has secured an unseen transcript of their conversation behind Hanna's back:
Blonde #1: Dude, check out that girl's badly done dye job! Her roots are showing!
Blonde #2: ikr? What kind of hair dye do you think she uses?
Blonde #1: Probably the cheap kind. *ohohoho* Hey, do you think that shade of colour would look good on me? I was thinking of going for a lighter blonde this autumn.
Blonde #2: Any colour would look good on you, bro.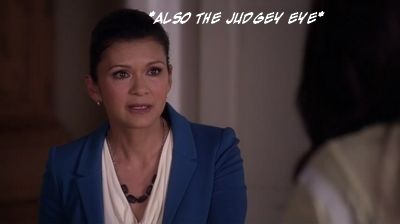 Poor Hanna is even getting the *judgey eye* from Emily's mom, who tells Emily that she
shouldn't
be there for her emotionally distressed friend during a family crisis.
Pam: Look Emily, I know you wanna be there for her. I feel so bad for Hanna, but right or wrong, Ashley has been accused of murder. And I really think Hanna needs to spend some time with her father right now.
Oh my god, that is such a *Pam* thing to say~ Only this callous bitch would disapprove of supporting a friend. "Compassion and sympathy are virtues that you should never have" is Pam's code of conduct. Besides, I thought she was quite close with Ashley's family, so it seems kinda cold to blow them off now. Man oh man, you kill one police detective and then you find out who your REAL friends really are~~~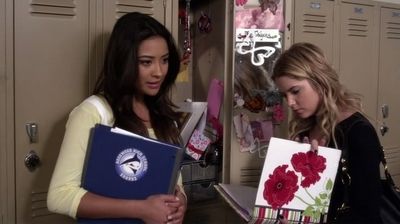 Speaking of Miss Emily, this bitch is still *obsessed* over Shana's every waking move. Hmm, I wonder where Shana is! I wonder what Shana would think about this! I wonder what Shana is wearing today! I wonder what kind of lip gloss Shana uses! #Shana #Shana #Shana #Shana
Emily: I haven't seen Shana since the open mic. It's like she disappeared…
Hanna: She can't just disappear. This isn't Hogwarts. There's only so many halls and classrooms.
I think "the lady in the book" that Hanna was referring to might have been Hermione Granger, and the other wizards were giving her the *judgey eye* for coming from a Muggle background.
Detective Wilden's film collection

Spencer: I saw Shana the other day…
Emily: OMFG CAN WE STOP TALKING ABOUT SHANA FOR A MINUTE??? SHANA DIS. SHANA DAT. SHANA SHANA SHANA!!! *orgasms*
And yet, Emily is the only one who keeps mentioning that irrelevant bitch in every other scene, so clearly #Shana #Shana #Shana is in the forefront of her mind. I mean, we all know Shana is the subject of her moist dreams and Emily wants ~*THE V*~ soooooo badly, but she doesn't have to make it THAT obvious.
Emily also made a hilariously passive aggressive comment at Spencer, because she still holds a grudge against her friend for keeping secrets from the other liars.
*Emily and Spencer are putting the dishes away*
Spencer: That should go in the top shelf.

Emily: Really? Thanks for telling me……this time.
How amazing is it that Emily finds a way to make digs at Spencer while doing something as mundane as putting the dishes away? That's like some expert skill in shade throwing and I need to take notes!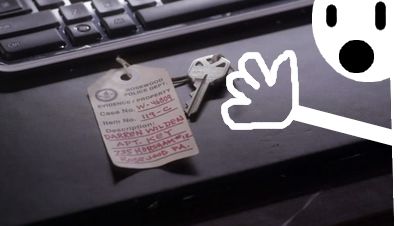 Since Hanna didn't have an opportunity to do anything outrageously stupid this episode, I guess Emily must feel obligated to take over as the dumbest ho on the show. This bitch walks into the police station, sees a key to Detective Wilden's apartment, and goes like *IMMA STEAL IT* because there're obviously zero consequences to taking away crucial evidence from a murder investigation!
OMFG Emily! This isn't some video game where Mario has to collect 99 keys before he can rescue Princess Peach from captivity, so you don't really need to swipe every key in sight. And by the way, the police precinct does NOT have a *finders keepers* policy contrary to what this little klepto may believe!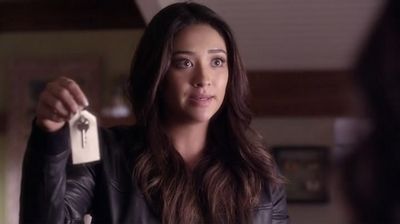 Emily's mom was supposed to look after the police evidence, so the blame falls on her when that key goes missing. As a result, Mama Fields ends up getting suspended from work. *lolwhoops* Good job, Emily! Who needs A when you already have Emily being two steps ahead in sabotaging her own mother?
What Emily did was pretty idiotic, but I kinda guessed this would happen as soon as I saw dat key lying around. You don't introduce a plot device on PLL without expecting some kind of ~*drama*~ around it. Besides, I guess the show wouldn't be nearly as exciting if the liars just stood around and did nothing all the time. *lol* But still, it's frustrating to watch these girls make one bad decision after another. The only logic they display is a motivation to drive the plot forward. ARRRGH Y R THEY SO STOOPID???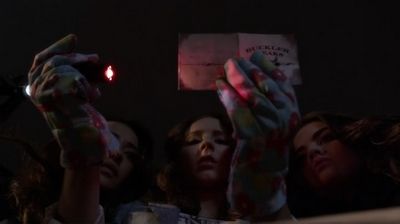 The pretty little liars use the stolen key to break into Detective Wilden's apartment. I believe they were looking for clues or summat, but it makes no sense for these three amateur sleuths to discover case-solving evidence when the police have already scoured the premises many times before.
Whatever tho, the liars won't turn down an opportunity to wear silly looking gloves & play around with their flashlights in the dark.
Aria: Look, the bedroom's over here!
Aria enters a guy's apartment and she immediately makes a beeline for the bedroom. This girl clearly has a one-track mind. *lmao*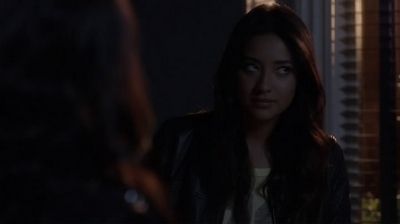 Emily: Come up with anything?
Aria: Not a lot. Just family photos, lots and lots of black socks, and his um…film collection.
Emily: Wilden's a film buff? What? Like classics?
Aria: Yeah, if you consider Lord of the G-Strings a classic!
Heh. Emily is so chaste and naive when it comes to the perverse nature of men. Oh yes, Wilden seems like the type of guy who watches Finding Nemo & Toy Story 3 in his bedroom every night. Technically, he IS a film buff…if you consider the fact that he's in the buff when watching these films~
Spencer: It's weird though. There's no plants, no art, not a lot of knickknacks or personal stuff…
Aria: Hmm, what I found was pretty personal!

Emily: It's like he came here to eat, sleep, and change his socks.
Aria: I think he did a little more than change his socks!
The other girls were trying to change the subject, but Aria doesn't catch the social cues and keeps harping on about the pornos. It's like seeing the p0rn collection trigged some kind of ~*sexual awakening*~ inside Aria and now she's frigging obsessed! This is definitely a new film genre that she and Jake should start watching together instead of those dreary black-and-white classics.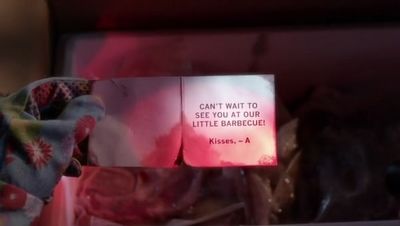 Aria: And they weren't even under his socks, they were just stacked on his nightstand like…hmm, what do I wanna watch tonight? Jimmy Kimmel or boobs!?
Um, no contest! I'd watch Jimmy Kimmel's jiggly boobs any day of the week!
Anyway, the pretty little liars didn't find anything useful in the apartment, other than a message from A being all *wassup bitches*, so this was a giant waste of time for everyone involved. The girls return home empty-handed…except for Aria, who is secretly on her way to Blockbuster to rent her own copy of Lord of the G-Strings and see what all the critics are raving about!
Stop trying to make Team Taleb happen

This episode features Caleb and Toby pretending to be ~*da hardy boys*~ as they investigate random thingz together. I think they were trying to find out who Red Coat/Alison/A is. Whatever, we all know they're the same person anyway.
Unfortunately, I'm not looking forward to another episode of the Tobster going on one of his wonky detective adventures. Please tell me y'all are as bored with these scenes as I am. *yawns* Can the writers seriously give his character something else to do besides these tedious plots that seem to go absolutely nowhere? Take off his clothes, or put him in a black hoodie, or do whatever you have to do to make Toby watchable again!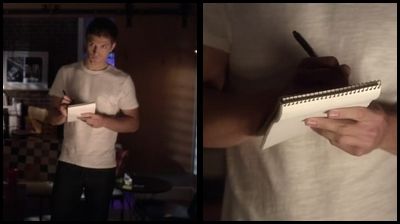 Sidebar: I was quite curious when Toby started scribbling down his chicken scratches on a notepad, which makes me wonder what the hell is this guy actually writing about!? Is he writing down the grocery list? Is he writing a meaningful haiku? Is he writing out his letter to Santa Claus? Or are we supposed to believe this doofus has some valuable insights that he can possibly contribute to the investigation? Please share with us, Toby, we'd love to know!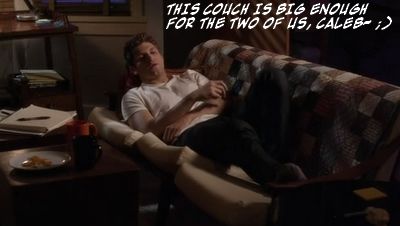 To be perfectly honest, I found the Toby/Caleb scenes pretty dull because that's what happens when you put the two least dynamic characters together.
The only good thing about this pairing is to exploit the underlying subtext in this newfound Taleb bromance.
Caleb: Alright, I'm blitzed. I'm going to head home and get some rest.
Toby: *lying suggestively on the sofa* You can come crash here if you want~
Was that a come-on from Toby??? How hilarious that he never once invited Spencer to sleep over at his apartment, yet Caleb gets to share the same pillow with him on his bed. Who gets to be the little spoon in this relationship?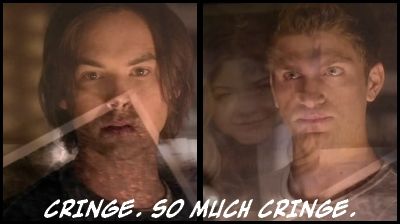 I know they're desperately trying to make ~*TEAM TALEB*~ happen, but what's up with those shots of Caleb and Toby's faces overlapping with various imagery as a rock song plays in the background!? That was soooo cheesy and cringe lmao. The PLL production team just keeps on ~doing the most~ as always!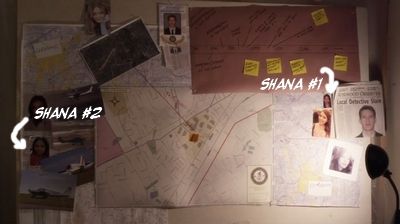 Officer Holbrook needs to file a copyright on his ~*murder board*~ because look at these two copycats trying to draw lines and put post-it notes on the wall! Been there, done that, so unoriginal! Just because you can pin pictures & maps on your wall doesn't make you guys a legitimate detective team!
1.) Somewhere along the way, these guys must have gotten bored and printed out random pictures of airplanes which they added to their arts and crafts board. *lol*
2.) Did anybody notice there are TWO Shana pictures on the wall? ZOMG TWIN TWIST. Maybe the real Shana is living in Rosewood and her twin sister is living in Ravenswood! That'd explain why the bitch(es) keep showing up all over the place!
Their investigation leads them to one of Jenna's boy toys, who made a cameo in the first episode of the season. Meet Nigel Wright! Last time we saw him on TV, he was Survivor's Matt Elrod, but then he became an actor, got a haircut, and changed his name to Wyatt Nash, which must be his new identity since Matt entered the ~*witness protection program*~ after his traumatic experience on Survivor: Redemption Island.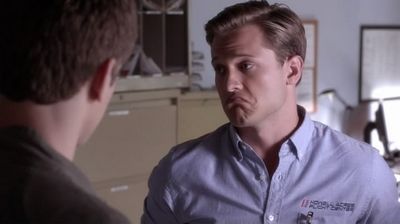 I think Nigel's character is supposed to be a pilot or a flight attendant or just some AIRPLANE DUDE. Anyway, Toby and Caleb ask him to look up which plane Red Coat flew on during the last season finale. This is followed by a whole lotta dialogue about *flight plans* and *tail numbers* and *airport registries* which must be very fascinating to absolutely nobody.
At one point, the conversation takes a turn for the worse and these three guys start talking about how much fog there was that night… OH MY DEAR GOD. Please describe an earthly scenario where discussing the fog can be interesting whatsoever!? Poor Recap Everything has almost no material to work with for this episode, so please bear with me here.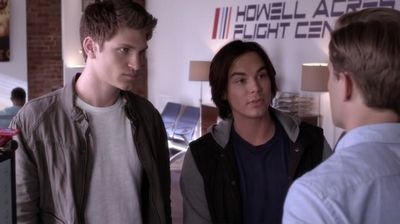 It was pretty funny when Caleb gave an unnecessarily convoluted cover-up story to Nigel:
"My buddy here got stiffed in a kitchen remodel, and the guy owns a plane, and we think he keeps it here, so maybe you could help us see if he skipped town?"
Is that not the biggest load of crock you've ever heard? First of all, do people usually go to airports to complain about their unsatisfactory home renovation work? Kinda random, bro! And second of all, whodafuq would believe the whole *i know dis guy who owns a plane & he just happens to keep it rite here* nonsense??? Oh dear! Maybe it's best that Caleb leaves Pretty Little Liars real soon, because evidently his lying skills are *not* very pretty to watch!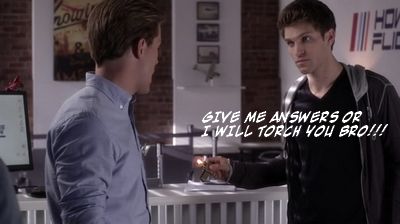 Long story short, blah blah blah. Remember how Toby found a lighter in the season finale? It was eventually revealed that NW doesn't stand for Kanye's baby North West, but instead they're the initials for Nigel Wright's name! OMG SUCH A SCANDALOUS REVELATION!!!
Caleb & Toby got rly aggro at the pilot dude afterwards, so they got into a heated confrontation with him. At one point, I think Toby might have threatened to set Nigel on fire!? OMG PUT DOWN THAT LIGHTER, SON!!! Then again, I shouldn't complain since it's the first time anything interesting happened with this investigation.
Toby should just burn down the entire building, all the airplanes, and Nigel's character for that matter. Hell, he could set himself on fire and I still wouldn't give a toss about this dreary storyline.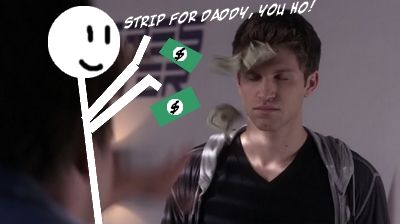 Finally, Caleb and Toby act like total thugs by bullying a confession out of Nigel.
Nigel: The truth is…CECE DRAKE IS THE EVIL MASTERMIND BEHIND EVERYTHING. Kthxbye~ *gtfo*
Well, okay then. As Nigel makes his sudden getaway, there was an unintentionally funny moment when he throws these dollar bills right at Toby's face. It's funny because in a few years' time when Toby's character hits rock bottom and he ends up dancing at a strip club, let's just say he better get used to having all kinds of money thrown into his face~~~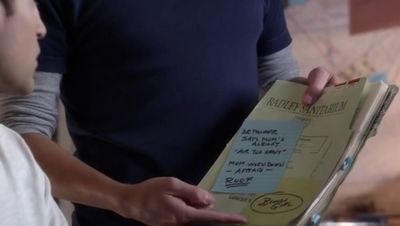 Oh, guess what else Caleb dug up during the investigation? MOAR DEAD MAMA ANGST! Good grief, can we go through a single episode of
Pretty Little Liars
in Season 4 without mentioning this godforsaken woman and her vortex of despair!?!? We hear so much about Mama Cavanaugh that I feel like I know Toby's mother better than I know my own mother! I still don't understand how this random dead character keeps dominating all the storylines omfg~~~
Just… five… more… episodes… of… dead… mama… angst! *slowly steps away from the noose* The only thing pulling me through Toby's dead mama bullshit is the fact that we're halfway done with it. Unless they decide to continue this storyline into the second half of Season 4, but PLL wouldn't be that sadistic to us viewers…right?
Unfortunately, it seems like you can't even say the word RADLEY around Toby anymore without triggering the same old ~*emotional angst*~ from this drama queen.
Spencer: Cece visited Mona when she was in Radley…
Toby: OMG! WHAT A COINCIDENCE! DID I MENTION THAT MY DEAD MAMA ALSO WENT TO RADLEY!? *holding back tears* CALEB, COULD YOU GIVE SPENCER AND ME A MOMENT ALONE!?
Caleb: umm okay?

Toby: WOW. *wipes eye* SUCH A MAJOR PLOT DEVELOPMENT TO MY DEAD MAMA INVESTIGATION!
PLL had one chance to make Toby interesting last season and they blew it. Now we're stuck with this emotional terrorist and his never-ending loop of drama. *exasperated* GOD HELP US ALL.
A drives a car into Emily's house!!!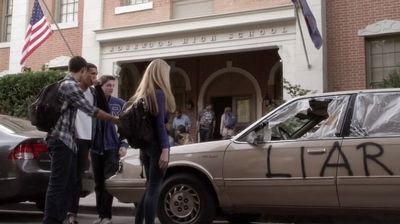 Last episode, somebody smashed Connor's car into smithereens and we're all left wondering whodunnit. Aria blames it on A, which seems to be a pretty good educated guess since A is the culprit 99% of the time. *lol* I don't even know why there are so many investigations on this show when A is basically responsible for everything bad that happens.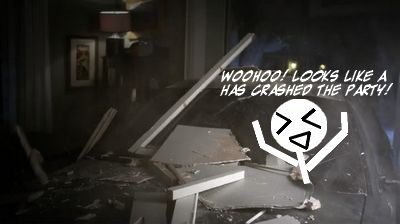 HOWEVER~ my theory: somebody else is responsible for vandalizing the car. Typically, A would've sent a bajillion messages bragging about the incident right about now. We'd be seeing texts that say:
"Guess I smashed in Connor's backdoors before your brother did, Aria. – Kisses, A."
sooooo it's highly suspicious that hasn't happened yet.
Besides, smashing a car is such child's play when we all know A is capable of so much worse. ZOOM ZOOM, MAMA FIELDS!
Basically, what happened was A MOTHERFUCKING CAR DROVE INTO THE SIDE OF EMILY'S HOUSE!!! *lololololol* Holy shit, who saw that coming!? That was so fucking awesome! One moment ago, Pam was just doing her thang in the living room, la dee la~ What's the worst that could happen, right? And in the next moment…WATCH OUT FOR THAT ONCOMING CARRRRRR!!!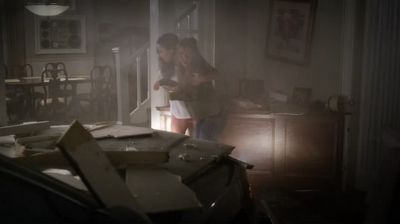 1.)
The only thing that went wrong is Mama Fields somehow didn't perish in the car crash. You were sooooo close, A! Aim better next time!
2.) There's no denying that A is picking off the law enforcement characters one by one. Pam got lucky this time, but she's clearly on ~*DA HIT LIST*~. Officer Holbrook and Lt. Tanner should stay away from their living rooms as well, because they must be next!!!
3.) BTW, this was totally karma after the shit Pam said about Ashley earlier in the episode: "Oh, just let Hanna suffer as her mom rots in prison!" HOW DO YOU LIKE DEM APPLES, PAM???
Who vandalized Connor's car? Who actually cares?

What happened to Connor's car seems pretty tame in comparison, and I don't really think A is the culprit anyway. My #1 suspect: MIKE THE JILTED EX.
Mike: Whoever did it knows Connor is a wuss! He always gets worked by offence, haven't fouled out of a game this season… Things get aggressive, he backs down. Every time.
It seems like things weren't very pleasant in the bedroom judging by his choice of words. "He always gets worked by defence!" & "Things get aggressive, he backs down!" are just nicer ways of saying: CONNOR WOULDN'T LET ME STICK IT INSIDE HIM. From what I can tell, Connor and Mike were both fussy bottoms who couldn't find a working arrangement during intercourse, leading to their hostile break-up.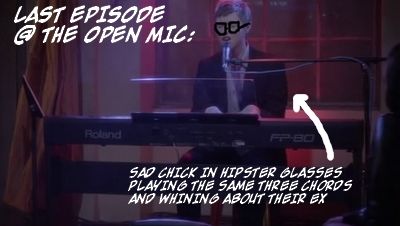 Aria puts two and two together, so she starts suspecting her brother's involvement, especially since he didn't have an alibi on the night of the crime!
Aria: *suspicious eyes* You know, you never showed up at Emily's open mic…
Mike: Sad chicks in hipster glasses playing the same three chords and whining about their ex? Yeah, no thanks.
Whatever, Mike! At least those folks get over their break-up peacefully instead of going psycho over their ex's car!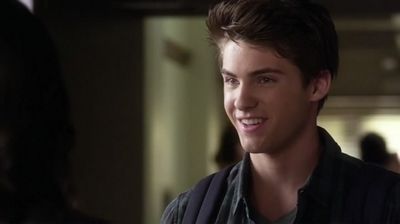 Mike: Really? You think it's me? Hello, I play lacrosse! It's a tiny little stick.
Ohhhhh ladiez, I think we discovered another reason why they broke up. "It's a tiny little stick" is a very revealing statement, no? Sounds like Connor wasn't very impressed with the size of Mike's lacrosse equipment, know what I mean?
Mike: That car was smashed by a bat, a pipe, maybe even a sledgehammer.
I don't understand why Mike thinks playing lacrosse proves his innocence? Last time I checked, lacrosse players can also vandalize cars with a bat, a pipe, or even a sledgehammer. In fact, suggesting those tools shows that he put a lot of thought into choosing the right weapon. Definitely guilty!
Connor starts acting like a whiny little prick and wants to file a restraining order against his psycho ex, which involves getting Mike kicked out from school! Ouch, what a bitch move!
Byron: One of his teammates is filing a police report, and that kid's father is pressing to have him expelled over some kind of damage to a car. It's that kid, Connor, the one you tutored last week. Did you notice any tension between them?
Only the ~*SEXUAL TENSION*~ between them, baby! *loljk* (Recap Everything, your ability to read gay subtext into any piece of dialogue is truly amazing. Why thank you~)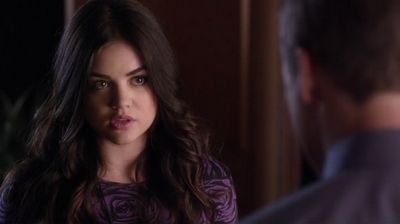 Aria tells her father what happened with Connor last episode. All the drama started because of some nasty rumour about Aria getting busy with Mr. Fitz, so Connor thought he'd try his luck since it seems like she'd do just about anything with anybody (her words, not mine!)
Can you imagine what poor Papa Montgomery must be thinking right now? "OMFG. My daughter is a total ho while my son is a total psycho! Book me a plane ticket, Ella! Let me escape to Austria with you~~~
"
Aria gets caught in the middle of the drama when the principal asks her: "HEY GURL, IS YOUR CRAZYASS BROTHER OFF HIS MEDS LATELY? LOLZ~" Later on, Ezra points out that school officials aren't allowed to mention how crazy the students are. It's a silly rule when you consider the successful ~*exchange program*~ between Rosewood High and Radley Asylum. Hello, this is the same school that Mona Vanderwaal and Spencer Hastings are still enrolled in! The more mentally unstable, the merrier!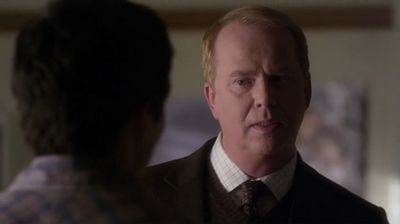 Principal Hackett: The school has a zero-tolerance policy to violence. Attacking another person or their property is a no-no!
And yet, Mona walks freely in the school hallways, even though her extracurricular activities include physical assault, psychological torment, and multiple reported incidents of endangering other students' lives. So clearly, there isn't a *zero-tolerance* policy or *any* policy for that matter. What kind of school is this principal running here anyway!? I guess that's why you can't spell Principal Hackett without the word *HACK*. Sums it up, really.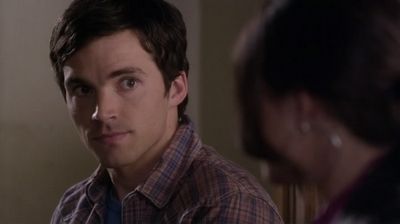 The charges against Mike were dropped because of some flimsy excuse to portray Ezra as the hero. *ugh* Actually, the show wants us to think that Ezra (or should I say ezrA *wink wink*
) smashed the car to defend Aria's honour or sacred temple of virginity or whatever. In other words, the writers pulled the wool over our eyes and made us believe Mike had a storyline for five seconds before revealing their secret agenda of *EZRIA ENDGAME* once again.
Naturally, it didn't take long before Aria showed up at Ezra's apartment and begging for his dick again. Remember how she shouted "STAY AWAY FROM ME!!!" at Ezra last episode? Remember that, Aria!? You used to be so strong, gurl!!!
Aria: I was just leaving a thank you note. An e-mail feels a little impersonal.
Try using a couple of emoticons if you want to add a personal touch in your email message, okay? Send him a gift card if you want! There are other ways to say thank you without giving Ezra a home visit! What is Aria playing at here!? Deep down, you know she was just waiting for Ezra to invite her inside for coffee and a fumble in the sheets. This girl's actions are SO transparent.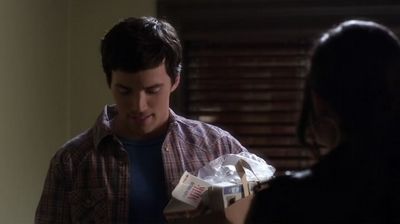 Upon seeing Aria at his doorstep, Ezra immediately greets her with his most suave remark:
Ezra: *sees Aria* Twice in one day!!!
Aria: ……wut.
What an awkward human being. You can tell because even Ezra hangs his head in shame after saying that. *lol* It must have been a Freudian slip because Ezra associates Aria with an activity that he does twice in one day. Once with the left hand and once with the right hand!
And then the two of them just stand there and stare awkwardly into each other's eyes for fifteen minutes. Ughhhh, pure torture. And you know what the worst part is? There's probably some Ezria fan who interpreted this scene like: "Ohmigawd, Aria and Ezra must be telling each other I LOVE YOU ~*with their eyes*~ hehehehe
"
Read more recaps!