Hanna's mom is finally arrested; Aria gets bullied by perverted teenage boys; Spencer and Toby investigate who stole the missing colours in the town of Ravenswood.


A

Love it!
After her arrest, Hanna got thrown into the police dungeon where the monstrous creature known as Lt. Tanner unleashed her almighty ***MINDFUCK GALORE***. Like holy shit, this demonic hag and her demented mind gamez, y'all~~~ The entire interrogation consists of Tannersaurus attacking her suspect with all kinds of threats and accusations. Her relentless psychological torment was intense, abusive, and borderline inhumane. If this woman had her way, I'm sure Hanna would be chained against the wall while Lt. Tanner cracks a leather whip to get a confession out of her!
Hanna: *sobbing into her hands*
Lt. Tanner: I'll do everything in my power to make sure you get the electric chair, mwhahaha~~~ *cackles as she summons thunder to roar down from the skies*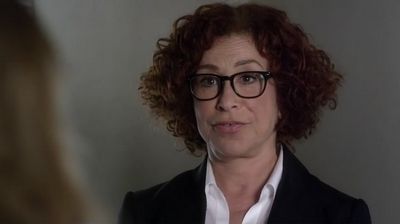 At one point, she decides to be extra evil and smacks a ~*SEVEN YEAR JAIL SENTENCE*~ onto Hanna for god knows what. I know stupidity should be a punishable crime, but you can't throw any dumb ho into prison just because you feel like it, y'know!? And doesn't it scare you that our justice system is being led by such a ruthless tyrant like Lt. Tanner? DARK TIMES ARE AHEAD OF US!!!
By the way, can you imagine if Hanna was actually jailed and has to spend Season 5 to Season 24 of PLL across a prison courtyard? Think of the seven years of fashion trends that she'll miss out on! Think of all the new television shows that she wouldn't be able to watch! Think of a life without her nail polish, her hair dye, and her shoe collection! Such a cruel fate!
Hanna: I can get seven years!
Emily: Seven years!? For what!?
Hanna: Carrying a concealed weapon, attempting to destroy evidence, murder…I dunno, whatever they find.
Emily: You are not a murderer!
Lt. Tanner's mind games are so diabolical that she managed to make Hanna confess to a murder that she didn't even commit. *lmao* What a tricky bitch~ She can get inside your head and utterly violate your psyche. The A Team needs to recruit this motherfucka to the dark side ASAP.
Emily does an evidence switcheroo

For the rest of the episode, Hanna's parents are keeping their daughter under ~*house arrest*~, which is for the best considering her self-sabotaging ass. In fact, they should install childproof locks and baby monitors around the house just to keep that girl in check. Unfortunately, Hanna isn't allowed to have conjugal visits while she's imprisoned inside her porcelain castle, so Caleb was forbidden from seeing his girlfriend.
Caleb: Hanna! I was so worried-
Papa Marin: k bye bitch~
Caleb: What…?
Mama Marin: k bye bitch~
Caleb:
Caleb's involvement in this episode was surprisingly minimal. Typically, Pretty Little Liars eats up this *forbidden romance* trope like it's their bread and butter, so I expected some outlandish gesture of love from Caleb's character. Maybe he'd send a carrier pigeon with a love letter dedicated to Hanna, or he'll climb Hanna's bedroom via her long golden locks a la Rapunzel…but nothing really happened. Caleb was denied access once, then he was like *lolshrug* and never tried to visit his girlfriend again.
I guess Caleb won't put in any effort to maintain his relationship with Hanna since he's leaving this show in a couple of episodes anyway. He's too preoccupied fantasising about his future romances with *Miranda* or *Olivia* or some other ho from that spin-off show of his. Who'd have time for that silly old goose Hanna Marin???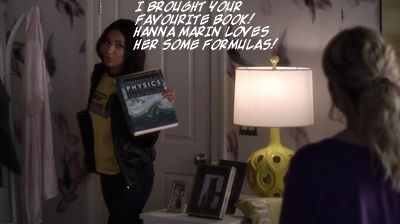 However, Emily managed to bypass Hanna's parents by delivering her physics homework from school. OMG…can you imagine Hanna solving a quantum mechanics equation!? BRAIN ERROR! DOES NOT COMPUTE!
This turns out to be a big fat lie just to get Emily into Hanna's bedroom (HEY HEY~), which was pretty smart and crafty of her. But you know what would be even smarter? Actually bringing Hanna's *REAL* homework so that her dumb ass doesn't fall behind school and flunk out of any more classes than she already does.
Emily: How are you?
Hanna: I'm in purgatory, a condition of temporary punishment and suffering from which I may never leave.
Emily: *stunned silence*

Hanna: I looked it up, along with everything about prosecuting minors and state minimums for third degree federal offences.
HANNA MARIN = SECRET GENIUS??? Holy crap, that might be the most syllables we've heard Hanna string together in a single sentence! It's surprising b/c none of us thought her pea brain has the physical capacity to retain actual knowledge.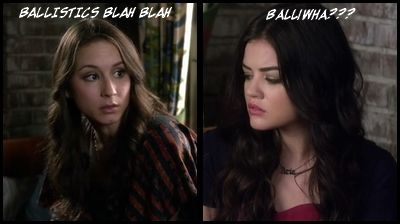 P.S. Also in the same episode:
Spencer: It's called ballistics. When you fire a gun, a barrel leaves grooves on the bullet…like a pattern. And if the pattern of that barrel matches the bullet that killed Wilden, then bam! That's the murder weapon.
It seems like whoever wrote this episode must have spent a lot of time reading the dictionary and copied the exact word-by-word definitions into the script. Poor Aria looked like she understood maybe two words that came out of Spencer's mouth.
Every once in a while, one of the pretty little liars would get a silly notion in their heads that they should ZOMG TELL POLICE & PARENTS EVERYFING ABOUT A!!! This time, Emily is the one who suddenly believes ~*the truth will set you free*~ so she encourages Hanna to give a full confession. She also comes up with a truly bizarre plan, which involves turning in the surveillance footage of Ashley running over Detective Wilden with her car.
Emily: Yeah Hanna! Go ahead and submit the video to the police! Let's make sure that bitch never gets to leave prison!
*lolwtf* Does Emily understand how the legal system works? You usually try to submit evidence that proves the defendant is innocent, not the other way around!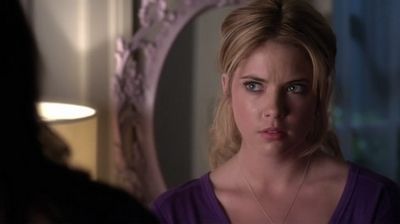 Emily's logic: *her* mom is not the primary suspect in this murder investigation, so no biggie if this incriminating video comes to light! Naturally, since this harebrained plan is the worst course of action to take, it gets the ~*stamp of approval*~ from Hanna's self-sabotaging ass. OMG…this girl just keeps getting dumber and dumber, and her friends are no better for enabling her stupidity.
What's funny is how Hanna hid the video footage underneath layers and layers of make-up. She put the surveillance disc inside a complex ~*makeup box contraption*~ where you have to slide open this door and flick on that switch and input a password code and go through facial recognition before you can finally crack the thinamajig. OH NOW DIS BITCH DECIDES TO HIDE EVIDENCE IN SECURE PLACES HUH!? If only she had an extra makeup box last episode, then she wouldn't have to bury her mama's gun in somebody's backyard.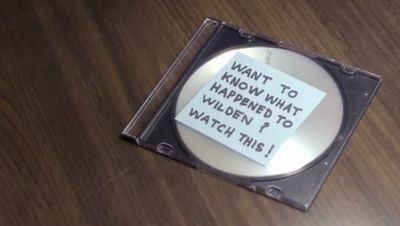 Emily intends to frame Jenna & Shana with the surveillance footage, which seems kinda strange since the video shows them *saving* Detective Wilden's life after Mama Marin's first murder attempt? IDGI. You could turn on the camera at any given time and probably manage to record Jenna doing some evil shit like…I dunno, throw cats into a brewing pot of poison. Yet, out of all the available videos, Emily chooses the one that actually depicts Jenna in a good light. *lolwut*
To make matters worse, Emily plans on submitting the surveillance disc anonymously. And by 'anonymously', I mean this: "HIHIHIHI~ LOOK AT ME! I AM EMILY FIELDS! WALKING INTO THIS POLICE PRECINCT! DROPPING OFF THIS CD! I AM SO INCONSPICUOUS HEHE!
"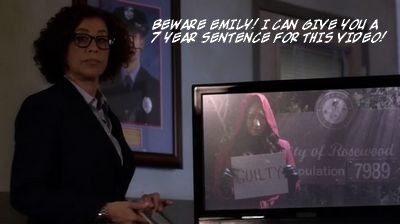 Emily's plan backfires when A does a ~*sudden switcheroo*~ and swaps the incriminating footage with some prank video instead. Although the new video is quite harmless, it'll definitely go on Officer Holbrook's *murder board* with many intertwining lines connected to Emily's picture!
MY THEORY: Does anyone think that Lt. Tanner was the one who swapped the videos? Think about it! What has curly hair, two thumbs, and can move freely around the police precinct? I wouldn't put it past dis tricky bitch to switch the real evidence with fake footage instead, so this stunt is probably another one of her twisted mind games. At this rate, Lt. Tanner is setting up traps all across town until she gets every single person living in Rosewood to admit that they killed Detective Wilden.
Even though Emily was
pulling a Hanna
with her dumbass plan, I'll forgive her actions since she's obviously blinded with rage and hatred against Shana, so she'll try anything to get rid of her. Did you know Shana is going to Rosewood High now? Since the writers ran out of excuses for her character to keep showing up at Emily's high school, they decided to transfer her in the middle of the school semester. DIS UNWELCOMED BITCH was like *imma steal ur spot on the swimming team & steal ur beloved scholarship & steal ur girlfriend while im at it*.
Emily is basically pissing and pmsing all over Shana's arrival because who does this irrelevant beta bitch think she is!? GTFO SHANA. NOBODY WANTS YOU HERE. DOOR IS DATTAWAY BITCH.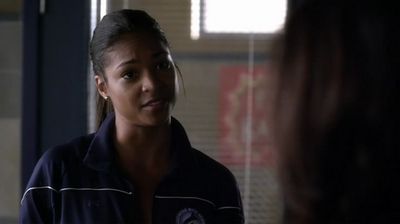 The problem I have with Shana is that her characterisation has been wildly inconsistent. Last time we saw her, she was acting like a huge bitch to Emily and getting all up her grill over the swim meet. Now in this episode, Shana's entire personality flipped AGAIN. Suddenly, she's all nice and sincere and genuinely concerned about Emily's shoulder boo-boo, how very sad for your misfortune! *hand over heart* Let it be known: I DON'T TRUST THIS SHADY FRAUDULENT BITCH WITH HER PENDULUM PERSONALITY SWINGS.
Ugh, Shana is not charming enough to be likable, she's not complex enough to be mysterious, and the bitch isn't even bitchy enough to be entertaining. I just find her character one-dimensional and annoyingly *basic*.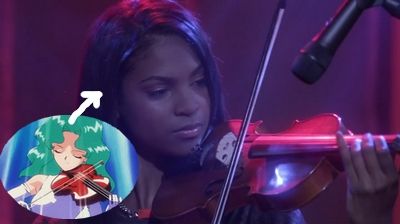 We learn that Shana is a woman of many hidden talents, including her mad violin skillz. When I saw her playing this instrument, it suddenly dawned upon me that Shana = Sailor Neptune. Let's mark down all of their shared similarities, shall we?
1.) Plays the violin. CHECK!
2.) Has the personality of a frigid cold bitch. CHECK!
3.) Is a fierce lesbian goddess… Well, Shana is hardly fierce or a goddess, but I guess that's what Jenna (aka. Sailor Uranus) brings to their relationship.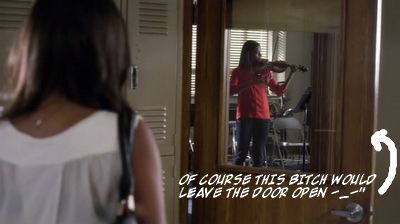 By the way, Shana is a total show-off. Oh, let me leave the classroom door wide open so that all the students are forced to listen to my shitty violin rehearsals. *starts screeching all over the place* Um no bitch, I'd like to file a noise complaint!
Aria, the sex tutor

Aria: *sips coffee* Ugh! Taste this, it's disgusting!
Spencer: No, you just spit in it!
1.) "HEY SPENCER, WANNA TASTE THIS NASTY COFFEE WITH MY SALIVA IN THE MIX???" <-- what Aria deems as appropriate behaviour. 2.) The pretty little liars are such sophisticated coffee connoisseurs! Some people go to winetasting sessions, but all the cool kids are doing coffeetasting sessions instead. Also, the correct way to taste wine is that you're supposed to spit it out afterwards, so that's probably what Aria was doing. *spit spit spit*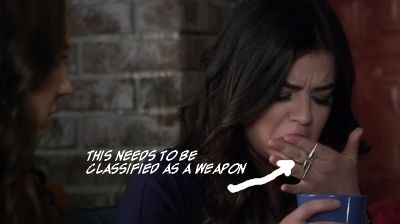 I think Aria might have tacks and nails surgically attached to her middle finger? This bitch's accessories are outta control! Or maybe it's something she picked up from karate class: Aria throws a punch and impales her enemy's eyeball in the process. The downside is that she has to be extra careful when giving out handy j's to Jake.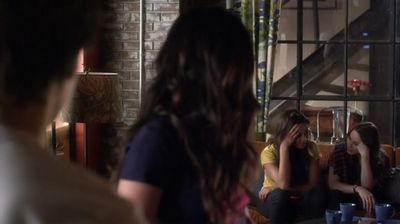 In this scene, we admire Emily's tremendous work ethic at the coffee shop…no wait, this lazy bitch is taking YET ANOTHER BREAK as she hangs out with her friends during work hours. No wonder Aria's coffee tastes so disgusting:
"Hmm, I can put on a new brew for the customers, but that seems like too much additional work! I'm just gonna serve this week-old coffee and plop my ass down on the sofa for my 3-hour break.
"
Meet Connor, the new employee starting his first day of work at the coffee shop! He also happens to be one of Mike's bum chums who plays on his team, and we ain't just talking about the lacrosse team bb~
As soon as it was revealed that he knows Aria's brother, I immediately had him pegged as a love interest for Mike Montgomery. Like mother like son, Mike wanted to bag himself a cutie pie from the pastry shop and spread some sprinkles inside Connor's doughnut hole. ;O Personally, I've already written out a fanfic with the two guys sharing croissants & kisses with each other before I even saw them interact, so this gay relationship is already *my* reality regardless of what happens on the actual show.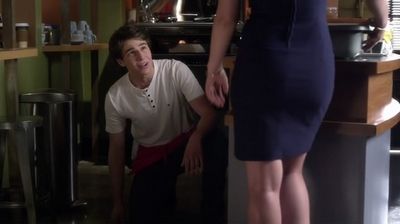 Connor has a conversation with Aria's legs and tushie, as he asks for help with his English essay. Apparently, Mike has been trolling everyone and claims that his sister is some kind of WRITING GENIUS. *lolwut* If Aria is a writing genius, then so am I! That's like saying my TV recaps should be historically preserved for its cultural significance, or like saying the writing on
Pretty Little Liars
is coherent and consistent. These are all statements that don't ring true!
P.S. William Shakespeare, you better watch your back gurl! All your stories are gonna be obsolete as soon as Aria Montgomery publishes her first novella!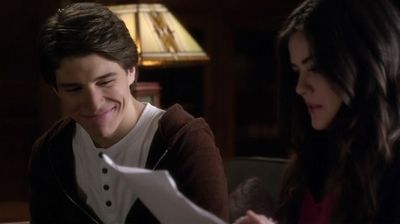 A little flattery goes a long way with Aria, so she agrees to look over Connor's essay…and then invites the guy over to her house. Oh dear, this bitch is just TOO forward sometimes. Maybe a less intimate location would have sufficed, like try the library or the coffee shop? Not all roads need to lead into your bedroom, Aria!
When a lady asks her gentleman caller to visit her boudoir, the implications are pretty clear. She wanna look at more than just your footnotes, you know what I mean? Then again, I guess Aria doesn't understand the concept of boundaries, coming from the girl who does all her essay writing on her teacher's bed.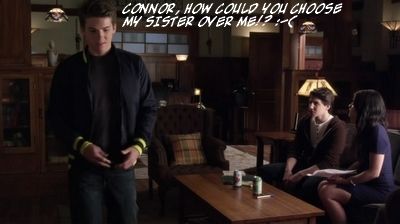 Mike could barely hide his *jealousy* when he sees his sister and his boy crush together. He must be thinking to himself:
"Connor should be cozying up next to me on the sofa instead of that triflin' ho!
"
I hope I'm not reading too much into this scene, but did you notice the little fugitive glances that Mike and Connor gave each other? Mmmhmmm. *nods head knowingly* Yes gurl yes. My deduction skills tell me there was definitely some romantic history between the two of them, most likely a private incident in the locker room that left both guys embarrassed yet slightly aroused.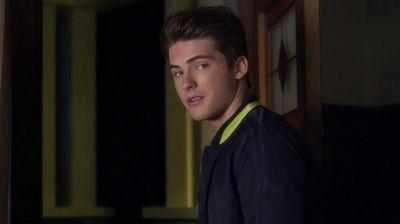 LOOK AT THE *HURT* AND THE *HEARTBREAK* IN MIKE'S WITTLE FACE!!! I JUST WANNA GIVE HIM A BIG HUG AND TELL HIM THAT IT DOES GET BETTER! HOPEFULLY ONE DAY CONNOR WILL REALIZE THAT YOU & HIM ARE MEANT2BE~~~
Okay, I know I'm totally clutching my pearls at the commencement of this gay romance that hasn't even happened yet. But considering the sole purpose of Mike's existence is a ~*coming out*~ storyline, my patience is starting to wear thin. Just come out already, you little closet case! I wanna watch Mike Montgomery's love story unfold and I WANT IT NAO!!!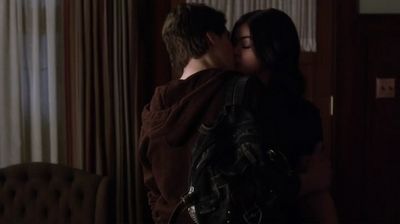 Unfortunately, it seems like Connor still struggles with being ~*Born This Way*~ so he forces himself onto Aria to prove that HE! DOES! LIKE! GIRLS! This is followed by the world's most uncomfortable kiss ever, until Aria goes like *nothx* and *access denied*.
Given her track record, it's somewhat surprising Aria didn't soak up the male affection wherever she could get it. I guess she'd kiss any guy except for the gay ones. Or maybe she desires being the underage party in her relationships, so she doesn't go for young'uns who look like they have yet to experience puberty. Just like a porno theatre, you have to be at least 18+ to enter inside Aria Montgomery! Don't even try to hook up with her until your balls dropped and you grow some hair on your chest, little boy!
Aria: I'm sorry…I'm not interested like that.
I think the sad shallow truth is that Connor might not be hot enough to pique Aria's interest. The kid is cute in his own way, but he's considered a massive downgrade after she recently finished making out with Karate Jake. I mean, that's a pretty tough act to follow. To put it frankly, Jake is like the caviar of men, while Connor is like a little rotten shrimp that has gone bad. And once Aria had a taste of that fine piece of man meat, she ain't going back to the other appetizers and side dishes on the menu!
Stop slut-shaming Aria!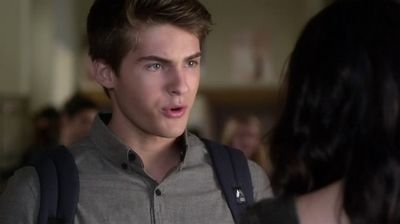 Nonetheless, Connor got what he wanted out of Aria, which is a story that he can brag to his friends to vouch for his heterosexuality. Yeah bro, I totes banged her last nite, yeah totes!
Poor Mike's wittle sensitive heart gets broken when he hears the news. And ohhhh ladiez, Miss Mike Montgomery pulled out her handbag and threw a HISSY SHRIEKY FIT! I think it's very telling that he never seemed to care when his sister was macking on her high school teacher or her karate instructor, but as soon as ~CONNOR~ got involved, that suddenly riled up all of Mike's gay nerves! You know what he's thinking, right? My man-stealing whore of a sister could have any guy that she wanted, but why couldn't she leave Connor alone!? NOT MY CONNOR!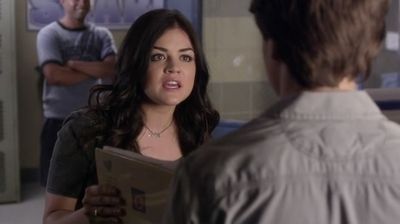 Aria is UTTERLY OUTRAGED about the scandalous lies about her sexual promiscuity, so she believes the best way to dispel these rumours is to MARCH STRAIGHT INTO A LOCKER ROOM WITH DOZENS OF NAKED GUYS!!!
Oh my god Aria, simmer down!!! You can't just go around trolling for men in the school locker rooms no matter how horny you are! ME ARIA MONTGOMERY! ME HONGRY FOR MEN! ME MARCH INTO LOCKER ROOM TO FEAST ON MY NEXT PREY! No, Aria, no! Gurl, I know you're craving for some meaty dick, but you seriously need to control yourself and not act on all of your sexual urges! Can you imagine if the situation was reversed as some guy walked into the locker room with all the girls in their bras and panties? We'd be calling him a filthy lewd pervert, so Aria is really no better!
By the way, that third guy from the left: I WOULD. He's surprisingly attractive for an extra with no lines, right? If the relationship between Mike x Connor doesn't work out in the future, I'm totally shipping Mike x Hot Locker Room Guy instead.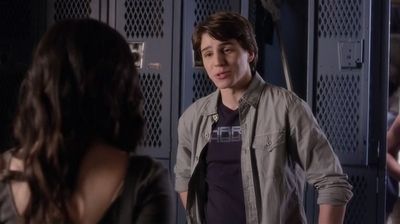 Aria: You kissed me, and I pushed you off, and then you left. Alright, that's what happened, that's all that happened! Okay!?
Connor: You can quit the innocent virgin act. Everybody knows you and Mr. Fitz weren't just Scrabble buddies.

Aria: EXCUSE ME!?

Connor: How many points for the word SLUT?
First of all, the answer would be 4 points. But more importantly: awwwwkward~~~ *hears a pin drop* Oh my god, I can't believe he said that! Didn't Connor's mama teach him to insult a bitch behind her back but treat her like a lady to her face? Even the other guys in the locker room were like *oh no he din'nt*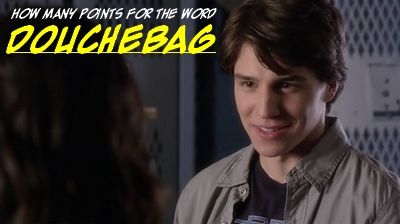 Up until this moment, I thought Connor was kinda coot and harmless, but wow he sure revealed himself to be a hardcore tool! Look, I know we like to tease Aria for being *da slut*, but it's all fun & games until some jackass like Connor takes it too far by making this uncomfortable for everyone. Hearing Aria get called a slut feels much different when the remark comes from some slimy misogynist dirtbag with a shit-eating grin on his face.
WTF Connor, who does this nondescript asshole think he is!? Yeah, Aria might be a total slut, but you have no right to call her that! And what is so wrong with being a slut, I might add? At least Aria isn't hurting anyone with her words or actions. On the other hand, Connor is a fucking nasty piece of work who forces himself onto women and makes up sick sexual fantasies about them when they reject his stank ass. Fuck off, Connor!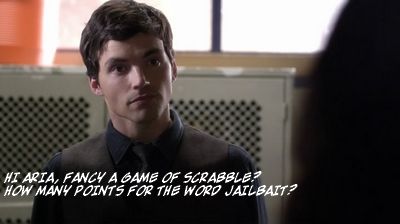 Speak of the devil, the situation gets more hilariously uncomfortable when Ezra shows up at the locker room as well. Connor had no trouble mouthing off against Aria, but suddenly he clammed up and doesn't have the balls to say his remarks to Ezra's face. I guess this pussy only likes to bully girls, go figure.
Ezra: Miss Montgomery, you shouldn't be in here.
If only he could say the same thing to Aria during penetration.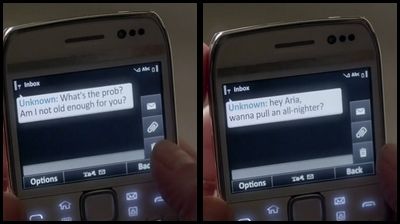 Somewhere along the way, making *wtfslut* jokes about Aria suddenly became less funny when she receives countless sexual solicitations on her phone. While
"What's the prob? Am I not old enough for you?"
is admittedly a pretty hilarious text message, it's uncomfortable watching Aria get BULLIED by these horny teenage boys.
I like to make fun of this promiscuous ho as much as the next person, but I'm also oddly protective over her and feel the need to defend her character. Yeah, she might be a slut, but she's an *endearing* slut who isn't really hurting anybody with her loose floppy vagina, so she doesn't warrant these malicious attacks against her. JUST LEAVE ARIA ALONE, OKAY???
I know I have no place to condemn others for bullying Aria when basically every recap of mine is like *ARIA IS WHORING HER WAY THRU ANOTHER EPISODE LOLZ*, so this storyline is like holding a mirror as I reflect on how hurtful and hateful that words can be.
How can I preach about tolerance when I condone so much spite in my writing?
That's why I promise to be a lot nicer to Aria in the future and confine my slut jokes to maybe just one per recap.
Upon further reflection…nahhhh! I'm only kidding~~~ Had you going there for a second, eh? I'm sorry, but it's far too enjoyable to make fun of Aria's slut rampages and I cannot find it in me to quit. Just because those teenage boys are awful perverted bullies doesn't make Aria any less of a ho, y'know? ARIA IS STILL A HUGE SLUTTY MCSLUTBAG BUT THAT'S WHY WE LOVE HER.
Ezra tries to console Aria by telling her to dismiss those silly rumours, but she was self-aware enough to admit there's some *truth* behind what they're saying. For a moment there, I was afraid their scene might be the start of a much dreaded Ezria reunion, but Aria was quick to shoot him down and tells Ezra to kindly fuck off.
Aria: Look, you cannot be the guy that helps me feel better anymore! Don't you get that!? *talk2thehand @ Ezra* Just stay away from me! Please!
Oh my days, I keep rewinding this exchange and I weep tears of joy every time my ears hear those sweet poetic words. "Just stay away from me!" BEST ARIA MONTGOMERY QUOTE EVER???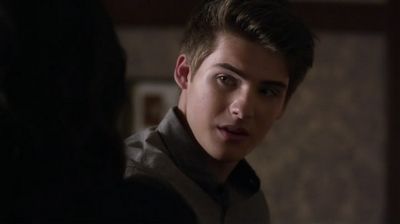 Aria: Look, I'm sorry your whole team thinks I'm a slut! I'm sorry about mom going away! I'm sorry, okay!?
"I'm sorry I'm such a slut!" Is this really the kind of conversation that a healthy brother/sister relationship should be having? Despite Aria indulging in her pity party of one, she ends up sharing a heartfelt moment with her baby bro. Mike tells her that he should've realized Connor was lying (since gay guys don't enjoy hooking up with girls, silly!) and he promises to be a better brother by making it up to her (aka. imma commit another felony in ur honour, sis!) If you listened to their exchange carefully, you'll notice that Mike *still* hasn't apologized for acting like such a dick to his sister in the past two episodes. However, this is the first time his character displayed any ~*moral conscience*~ whatsoever, so I guess it's a good start?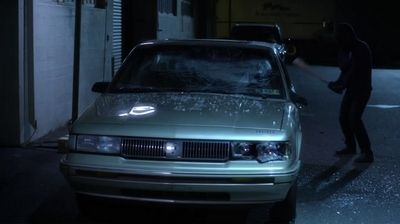 In the end, Mike avenged his sister by vandalizing Connor's car with a baseball bat. Smash dem windows, gurl! I know the show left just enough doubt for us to suspect Ezra as the culprit, but c'mon this type of underhanded dick move has Mike's signature written all over it. Besides, Ezra is more the type who'd quietly slip rat poison into your drink rather than lash out violently at somebody's car, so I really don't see him as a viable suspect in this scenario.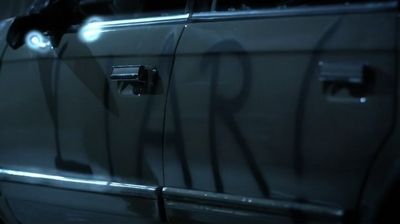 nother reason why I think Mike did it: doesn't the attacker's behaviour remind you of a jilted lover who slashes his ex's tires & smashes his windows just because Connor wouldn't reciprocate Mike's love for him? I mean, sheesh, I was getting total *Before He Cheats – Carrie Underwood* vibes from the car vandalism scene. In fact, I assume the car is a ~*metaphor*~ for Mike's relationship with Connor, and he's breaking dem windows in the same way that Connor has broken his heart. OMG SO POIGNANT.
By the way, sprawling the word LIAR on Connor's car? Sounds like somebody isn't being entirely truthful about their sexuality~~~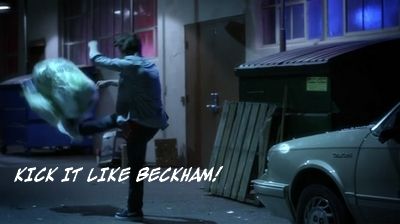 For the record, I acknowledge the fact that Connor is an irredeemable scum of the earth who lost all goodwill among the PLL fans with his atrocious personality. But whatever, I still ship him and Mike Montgomery together anyway! Let's not forget that Aria's brother is also a huge douchebag 90% of the time, so the two of them really *are* perfect for each other. They're like a match made in douche heaven.
WTF RAVENSWOOD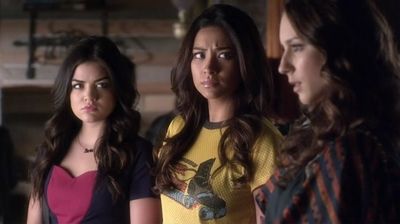 Emily and Spencer finally cleared the air after their nuclear feud last episode. (Their apology: "I'm sorry I'm such a bitch!" "And I'm sorry I'm such a bitch as well!" *kiss and make up*) Naturally, Mona arrives right on cue and her malicious ass was like OH YESSS I MUST DESTROY THIS PEACE & HARMONY FORMING AMONG THE PRETTY LITTLE LIARS IMMEDIATELY!!!
Mona: OMG TOBY STOLE THE RV & SPENCER DIDN'T TELL U GUISE BECUZ SHE'S AN ASSHOLE!!!
Spencer: *lolwhoops*
Emily: *hating on Spencer again*
Mona: Mission accomplished!
#spillthetea #spilliteverywhere #EVERYWHERE
Emily: Mona may not be A, but she's definitely still a B!
I kinda wish they'd just call a spade a spade, because the unspoken implication & what we are all thinking is: Mona = BIG CAPITAL C. I doubt this punchline would fly with the ABC Family censors tho~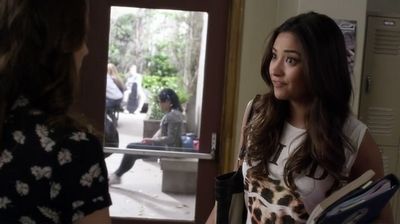 Emily is behaving like an aggro bitch this episode, stomping all over the place and clocking everybody's tea. In particular, poor Spencer took the brunt of her RAAAAAGE.
Emily: I know you're trying to protect Toby, but I really wish you'd think about the people you were hurting!
Part of me thinks that Emily is *just jellus* because her precious god Toby shared this secret with Spencer but not with Emily herself. Notice how she didn't have a single bad thing to say about Toby (who could do no wrong in her eyes) even after the shit he pulled, yet she's hating on Spencer's ass with the ferocity of a thousand suns. Emily makes her ~*loyalties*~ very clear in this scene, don't ya think?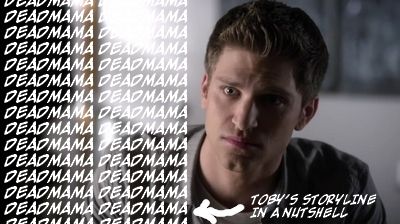 I still don't understand why Toby insists on being so secretive with his dead mama investigation, other than the fact that he's milking all the angst and drama out of this storyline for what it's worth.
Spencer: If we just told them the truth, I know they would understand.
Toby: If we tell them, it's over! I'd never know what happened to my mom.
IT'S OVER!? IF ONLY WE ARE SO LUCKY. *sighs* On the bright side, we only have to put up with six more episodes of the dead mama dramarama, everyone!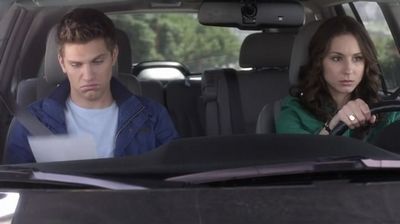 In this episode, Spencer and Toby go on a ~*road trip*~ as part of their investigation. At this point, I can't recall if they're still investigating Toby's dead mama drama, or maybe they're focusing on Alison's murder instead? TBH, all of these weekly investigations are like a blur to me and I'm honestly not sure what's happening half the time. Does it really matter though? They could be investigating the new Burger King store around the corner for all I care, yet PLL would still find a way to insert some *wacky hijinks* into the proceedings.
Spencer and Toby arrive at a town called Ravenswood. Ohhhh mannnn, where do we even begin with this stinking hot mess!? It's like halfway through the episode, we're suddenly taken away from reality as we enter into this strange mythical land that might possibly take place in an alternate universe/dimension/twilight zone. I seriously have my doubts whether Ravenswood is actually situated on planet earth, because everything about this town is SO. FUCKING. BIZARRE.
Welcome to Ravenswood, the town where colours and teenage girls come to die! GURRRRL WHERE HAVE ALL THE COLOURS GONE??? ;A; Evidently,
Pretty Little Liars
got a little too *creative* during post-production and decided for whatever reason to drain the colours out of every scene. How bad is it? Well, as soon as Spencer and Toby walked into this town, they instantly changed skin colours from white to asphalt grey, so you know this place is a little fucked up!
I'm reminded of a quote once said by a very wise man on the show: "I dunno, I see a black-and-white movie on TV and I think something is broken~" Exactly, Karate Jake! That basically describes Ravenswood in a nutshell. Something must be broken alright, most likely the ~*colour filter*~ used to produce this episode.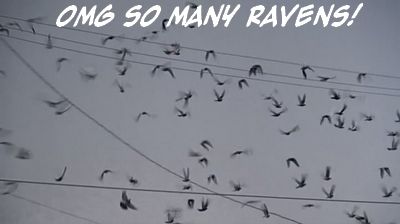 Since Ravenswood is the focal point of the new spin-off show that PLL will be launching, the showrunners have been DOING THE MOST trying to make this shitty little town ~*happen*~ in order to impress the viewers. They threw in just about every single show-stopping trick and stunt, so the end result was just chaotic, nonsensical, and verging on absolutely bonkers!
Before we even entered this town, we see a hilarious piece of stock footage with all dem ravens crowing and flapping their wings in such a dramatic fashion. This shot was so obviously out-of-place and looked like it was clipped directly out of a black-and-white film from the 1940s.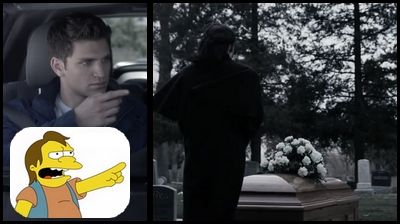 My favourite moment in this episode happened just as Spencer and Toby were driving into town. Toby suddenly notices a person mourning in the cemetery. For some peculiar reason, he starts POINTING HIS FINGER at the poor sap as if he just spotted a fascinating wildlife in the zoo! *pointy point point* Hey Toby, this isn't the sightseeing tour where you need to point your finger and marvel at the view! Put your hand down, love!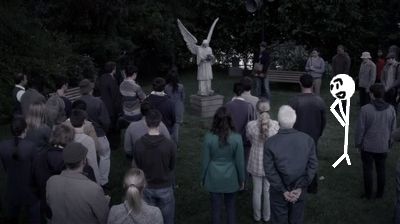 Actually, I think the people living in Ravenswood just enjoy standing around in strange places to look at things. Here are all these townspeople gathered at the park and staring at a statue for some inexplicable reason. Are they worshipping the statue? Is this a cult meeting? Or is this just a really awkward party where none of the guests know what to say to each other? What exactly is going on here!? WTF Ravenswood!?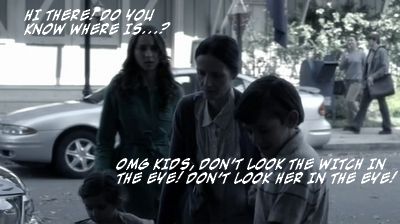 My second favourite moment in the episode is when Spencer goes outside to ask for directions. She tries initiating contact with this mother-of-two, but this stone-faced woman completely *blanks* Spencer and just zips past her without uttering a single word. WOW WHAT A FUCKING RUDE BITCH. Look, lady, if you don't know the directions, you could have said so without being such a dick about it! A simple head shake would have sufficed! I AM CALLING YOU OUT, RUDE BITCH CROSSING THE STREET! WHERE ARE YO MANNERS!?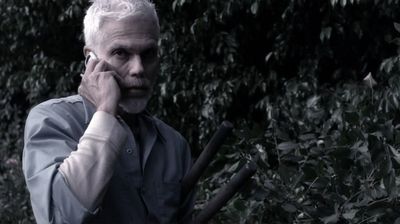 In fact, this whole town is full with rude assholes who wouldn't give Spencer or Toby the time of day. They tried asking this gardener for directions as well, but this bastard was like *GTFO INTRUDERS* before frightening them away with his big scary face. As soon as they left the premises, we see the gardener pull out his little Nokia mobile phone as he dials a ~*mysterious*~ number. For all we know, he was probably just calling his wife to ask if she wants him to pick up any groceries after work today, but this scene was depicted as *very mysterious* because that's the kind of convoluted shit Pretty Little Liars loves to pull.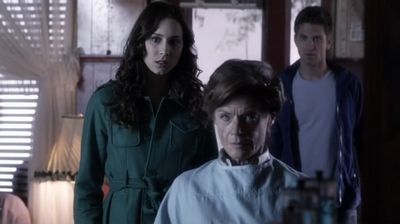 Spencer has been looking for a woman called Carla Grunwald, who was formerly employed as a house mother for a sorority house, and currently employed as a house mother for the best little whorehouse in Ravenswood. I think Spencer saw her face in a photograph and suddenly decided that she's a key figure in this investigation or something? IDK. Whatever.
Lady Grunwald was glamming it up and getting her hair ~*did*~ until these two musky street rats come bursting into the salon. Spencer approaches the woman with as much subtlety and tact as you'd expect, which means the first line out of her mouth is: "WHAT DO YOU KNOW ABOUT MY DEAD FRIEND? GIVE ME ALL YOUR ANSWERS NOW!!!" Grunwald was basically like *oh ffs this lil' interruption better not ruin my pram~
1.)
First of all, it has to be said: Lady Grunwald = RED COAT??? I think it's very telling that we're first introduced to her character inside a hair salon. She was probably just finished dying her hair colour from blonde to brunette right before Spencer comes barging into the store.
2.) Second of all, it must be said as well: Lady Grunwald = LEADER OF THE A TEAM??? In fact, I think she's running The A Team, The B Team, and the yet-to-be-discovered C Team. Don't be fooled by her demure demeanour. Last episode, she was described to us as a vile hag who ruled the sorority house with an iron fist, so I think this woman is putting on a front and she's secretly a bitch in sheep's clothing. Besides, you can't really be an ally of Alison DiLaurentis without having some sort of deeply rooted evil inside you.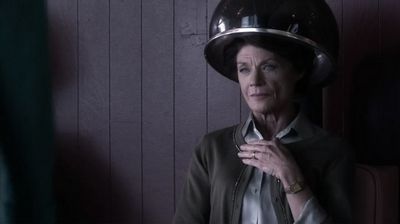 3.)
Spencer: "The girls said that you'd disappear every day for hours at a time and you would suddenly reappear as if you never left…"
Lady Grunwald = TIME TRAVELLER??? In a bizarro world like Ravenswood, any conspiracy theory is possible! Besides, she does speak like a creature that has escaped from approximately the 18th Century, so I think this might be the most believable theory yet!
4.) Lady Grunwald is quite obviously a BIG LYIN' BITCH who won't admit she knows Alison, and she refuses to spill the tea no matter how hard Spencer presses her.
5.) Ah, but enough questions! Now if you will excuse me, my dear, this hair won't blow-dry by itself~~~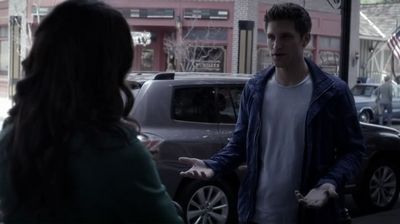 Toby: You're following a lead that came from a bird! Maybe it was never a real clue. You have to learn when to let go, Spencer!
Ohohohoho! That's real rich coming from the crybaby with the dead mama angst. And this is the same schmuck who takes leads from credible sources like psychiatric hospital patients, demented serial killers, etc.
Spencer: Me!? I need to learn when to let things go!? I might be trusting a bird, but you're trusting A!
lolpwnt toby~ and for the record, I would not trust that damn bird so much if I were you, Spencer. Tippi is obviously in cahoots with The A Team!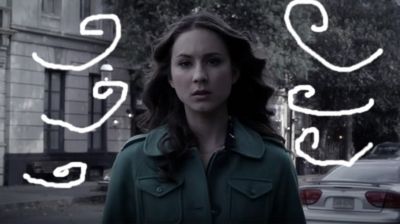 OMG SPENCER, WATCH OUT!!! YOU'RE STANDING IN THE MIDDLE OF A RAVENSWOOD TORNADO!!! *loljk* Actually, they just trotted out the wind machine and switched to the maximum dial for the most dramatic effect. The hilarious part is you can tell the exact moment when they turned the wind machine on and off. Because as soon as Spencer finished crossing the street, the ferocious windstorm behind her just magically stopped all of a sudden! How convenient!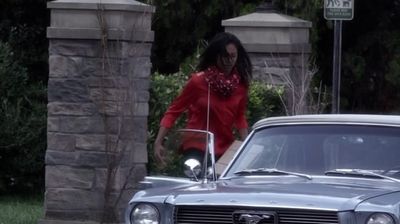 Ugh. Guess who else showed up at Ravenswood? NOT DIS SHANA BITCH AGAIN. It's like a habit of hers to keep showing up in inexplicable places where she doesn't belong, despite the fact that nobody wants her here or there or anywhere. What is she doing here!? Why is she riding in Jenna's car!? And how come she's the only one immune to the ~*colour plague*~!? SHADY BOOTS SHANA, WHAT IS UR AGENDA???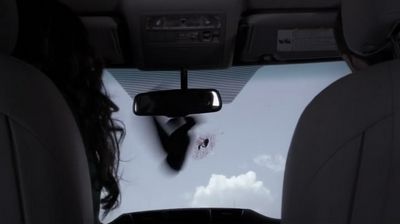 Shana is escaping in her getaway car, so Spencer and Toby try to chase after her…AND THEN SPLAT!!! A BIRD SUDDENLY DIES ON TOP OF SPENCER'S CAR!!! *wtf* One moment, there are clear skies up above. And the next moment, it's raining dead bird corpses everywhere~~~
Even the bird was like: GURRRRL, THIS TOWN IS TOO MUCH. Imma commit suicide so I don't have to continue living here anymore. *lolded*
Afterwards, we see Spencer and Toby both look up at the sky, clearly exasperated. I think they just realized that the existence of Ravenswood is probably God's idea of a practical joke.
Mama Marin, you're under arrest!

Meanwhile, we continue our ongoing soap opera happening in the Marin household. Sadly, Ashley's sins are catching up to her and her downfall is inevitable. When Tom demands to know why his gun was in her possession, her answer was less than adequate.
Ashley: I took the gun cuz I didn't know what was gonna happen! He grabbed the gun out of my hands & I ran! I swear to god I didn't shoot him!
Is that the best she can do? Oh man, she's so screwed in court. *lol* I wanna give her the benefit of the doubt, but we've heard at least ten different versions of the story from Mama Marin. First, she was not in Rosewood. Then, she never saw Detective Wilden. Then, she never stole the gun. And then, she admitted she was lying all along, yet we're still supposed to believe she didn't kill the bastard. I mean, her guilt is kind of a foregone conclusion at this point, no?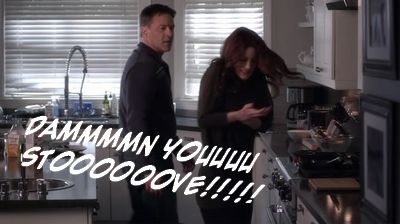 The tension reaches a boiling point as Mama Marin has a MAJOR MELTDOWN in the kitchen. She was like throwing away burnt toast, and scrubbing those motherfucking dishes, and shouting out all kinds of profanities at the frying pan! This is the behaviour of a woman who knows the walls are closing in on her!
Tom: Ashley! *turns off stove* Are you trying to burn the house down!?!?
Oh yeahhhh, adding arson to the crime checklist, baby~ That should add at least two or three more years to her jail sentence. And hey, if Mama Marin is going down for murder, then she's gonna go in a blaze of glory!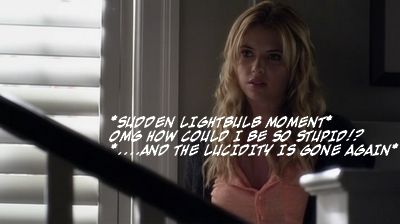 Hanna: God, how could I be so stupid!? I mean, I try to fix things and it just gets worse!
THESE WORDS NEED TO BE PRINTED OUT AND TATTOOED ON HANNA'S FOREHEAD PERMANENTLY. Unfortunately, she says this now, but by the time of the next episode, she has already forgotten her own advice. If you thought burying the gun behind the sorority house was the peak of her stupidity, then oh my god just you wait and see what else she does. No joke, Hanna Marin may seriously be the dumbest human being alive.
Tom: Hanna, I wish you would come to me.
Ashley: Honestly, dad? I didn't think you wanted me to.
I thought this exchange was very well-done. Besides the hilarious fact that Papa Marin was seated at the stairwell drowning his sorrows with a glass of vodka (DRINKING IN DAYTIME? SO SOAP OPERA! I LUV IT~), it was actually a poignant scene highlighting the dynamic between Hanna and her father. Last episode, she didn't return the stolen gun back to her dad because she was afraid he'd report her mom to the police. I think it's pretty sad that a daughter couldn't find it in her heart to trust her own father, and it's also pretty sad that she thinks he doesn't want her in his life anymore. This gives us some insights to what a vulnerable individual Hanna is, and while this doesn't excuse her astounding stupidity, it does let us understand the rationale behind her actions.
The episode ends with Mama Marin finally getting arrested by the police because they found her fingerprints on the bullets. (Just a reminder: "You have to trust me! I didn't shoot him!" vs. "Every single bullet was covered with your fingerprints lolz~")
Hanna: No, she didn't do it! You have to believe me! She didn't do it! Mom, come on! Tell her you didn't do it!
Ashley: …… *silence*
I think Ashley's silence tells us what we need to know about her innocence, hmm? But don't worry Hanna, I'm sure you'll see your mom again one day. I mean, I'm sure they'll release her maybe fifty years later when she gets a chance at parole, so just be a little more patient gurl!
Read more recaps!