Are you ready for the Wren vs. Mona vs. Veronica epic warfare? Also, Emily moves into the DiLaurentis house; Ezra finds out Malcolm isn't even his son.



A-

Awesome!
This episode, Mama DiLaurentis was generous enough to offer Emily and her mom a place to stay instead of living in a motel room adjacent to the drug dealer & the married man having an affair with a prostitute. (I'm just guessing the clientele. IDK, who lives in a motel anyway?) You'd think Emily would be grateful about having a roof over her head during her time of need, but for some reason she is *REPULSED* by this gesture of goodwill and threw a mighty strop about living with Mama D. From the way Emily was behaving, you'd think she just got inducted into a cult!
Jessica: Welcome to my loving home, Emily! If there's anything that could make your stay here more comfortable, I'll bend over backwards to accommodate you!
What Emily Hears: Ahhhh yes, excellent… Alison's virgin sacrifice has arrived at the temple at last…
To be fair, I understand why Emily might be skeeved out by sleeping in Alison's old bedroom, which was decorated and refurnished exactly as it used to be. The place looks almost a little eerie. Like I kinda expect Alison to jump out from underneath the bed any moment now. Is she here? Is she there? Where is that bitch's undead spirit hiding!?
Emily: I can't stay here! I mean…it's like a museum!
Spencer: When you think about it, it's not that strange of a reaction. I'm serious. In the 19th Century, when children died, their parents would sometimes pose them for lifelike photos as mementos.
Emily: NOT HELPING. NOT HELPING AT ALL.
And Spencer said it so earnestly too, like she genuinely believed her words will have a soothing effect on Emily. *lol* Let's get real though, you know Mama DiLaurentis definitely took a few of those photos with Alison's corpse before burying the casket. Wouldn't surprise me at all.
Mama DiLaurentis is FOREVER ALONE

C'mon, just look at the crazy in her eyes. Something quite isn't ticking right with this kangaroo! I mean, she acts like a lucid, congenial and graceful hostess to Emily 95% of the time, but every now and then, she'd slip in a comment like "Oh, if only Alison was here to see us so happy together!" or "Let's share our favourite memories of Alison when she was alive!" or "Emily, we shall use your blood to cleanse our bodies at the next full moon. It is what Alison would have wanted!" Tick tock, tick tock, only a matter of time before this one loses it for good!
I'm just kidding. In all seriousness, I actually think Alison's mother is a nuanced, sympathetic, and poignant character that's quite fascinating to watch. This is a woman still stricken with grief, unable to move on from her daughter's death in spite of everybody else around her being able to cope with the loss. She tries putting on a normal persona in front of others, but it must be so agonizing to internalize these feelings and not have anybody to share them with.
We see glimpses of her vulnerability. A flash of pain flickering in her eyes when she opens the dresser… The way her voice trails off when she suddenly recalls a memory… The lingering gazes on her daughter's old friends with traces of melancholy… Suddenly, there's a little more clarity to explain her actions so far. The bedroom, her conversations, all those memorials. These are all symptoms of a woman drowning in despair.
I really like Jessica DiLaurentis, and not in an ironic way as I often do with PLL characters, but I really, really feel for her. The portrayal of a mother coping with her daughter's death has been just marvellous. I like how they introduced her in one episode early on while she was grieving openly at the fashion show, and now they are fleshing out her character when she's grieving in a different way. Overall, I think her characterisation has been well-written, which is not something I often say in these recaps, but I must give credit where it's due.
Whoa… That was an uncharacteristically deep moment for Recap Everything. Let's go back to making fun of this crazy bitch~~~
And then we have DEADMAMA. Ugh, how can
Pretty Little Liars
handle one storyline so well and then get it so completely wrong with another?
Unfortunately, the DEADMAMA abomination continues for yet another episode with Miss Toby acting like her usual *mopey* and *dopey* self. OMG Spencer, A won't give me pointless clues to this pointless investigation if we don't pointlessly keep this a secret from everyone, hurrdurrdurr! <-- my Toby imitation. I think this episode's plot revolves around a music sheet or some shit, I don't really know or care. All I know is the episode comes to a complete halt whenever this storyline rears its ugly end. Watching these scenes feels like cutting my toenails; it's mildly irritating and seems completely redundant, but I just have to keep going through this process every so often!
The hilariously senile Dr. Palmer shows up this episode, and his appearances always brighten things up because he keeps trolling Toby soooo hard. Every time, he gives that schmuck false hope by acting like *I JUST REMEMBERED A PIVOTAL CLUE TOBY* only to end up being all *lololol jk i'm still crazy*. I'm starting to think Dr. Palmer isn't even senile anymore. Life is pretty slow at a retirement home, so this old man probably just likes fucking with Toby's head for his own amusement.
At one point, Dr. Palmer starts talking to Spencer as if she was Toby's dead mama, which was pretty lulzy. Naturally, Toby is already sulking and emoting and pulling all kinds of ridiculous faces in a dark corner somewhere, but we'll just ignore his attention-seeking antics.
By the way, who else thinks Toby would totally get off on Spencer roleplaying as his mother during sex? Okay ew ew ew, I crossed the line! Sorry for putting that mental picture inside everyone's head! But maybe Toby can pretend to be Dr. Palmer during the role-play and it'll feel slightly less inappropriate, no?
Dr. Palmer did some name-dropping and mentioned meeting Mama DiLaurentis before, so the pretty little liars just jumped to the natural conclusion that he must be her shrink. *lol* I love how they are so convinced she's a crazy old bat.
FLASHBACK TIME: It turns out Mama D only visited Radley due to some twisted prank. Alison and CeCe lied about checking into the mental institution for the lulz. Man, I've heard of practical jokes like whoopee cushions and crank calls before, but Alison and CeCe are clearly trailblazers in taking their stunts to the next level. Mama DiLaurentis was obviously pissed off once she found out, but Alison was just like TEEHEE! BITCHES BE BITCHES~ which only made her mom *RAGGGGGE* even more.
There was an awesome moment in the flashback when Mama DiLaurentis felt so livid that she literally
SLAMMED
the piano keyboard lid so hard and she almost *guillotined* off Alison's fingers! LMAO IT WAS SO EPIC. I'm typing this recap and watching the scene again, and I had to pull away my fingers from the computer keyboard because I was
that
scared, haha.
Looking back, I'm actually starting to wonder **WHY** Mama DiLaurentis is still grieving over her horrible daughter. It didn't seem like the two of them had that great of a relationship, right? So far, her fond memories of Alison include throwing water in her face and trying to slice off her fingers. *lolwtf* You'd think we would see some warm happy flashbacks from Alison's family, but nope it has been a constant barrage of one traumatic experience after another. I guess Mama DiLaurentis and Alison screaming in each other's faces was just their special way of communicating love for each other?
P.S. I think if Alison hadn't died, Mama DiLaurentis would probably be reported for child abuse and have to attend the same court hearing as Pam, I'm just sayin'~
Recently, Jessica has been given the divorce papers from Papa DiLaurentis, so now she lost both her daughter and her husband. *sux2beu* I guess she still has Jason, but his actor is too busy slutting it up on
Devious Maids
to film scenes for
Pretty Little Liars
anymore, so Mama D really has nobody left in her life.
Jessica: You think you know somebody so well, but then something you both counted on changes, you find out who they really are. I just wish it hadn't taken me 24 years to learn them. I don't expect you to understand.
Emily: No, I do! I'm going through it myself.
LOL WHAT!?!?!? NO YOU ARE NOT!!! Oh my god, can you believe the nerve of this cheeky bitch, comparing a little rift in her silly teenage fling to a 24-year marriage falling apart over the death of a child??? Have Emily and Paige even been dating for a year yet? Your life experience is still a blank canvas right now, so sit down and be quiet little girl!
Does anyone feel bad for Mama DiLaurentis? I believe something good needs to happen in that woman's life. How about a new man? Yeah! Let's help Jessica get over her divorce and find a love interest among the male suitors in Rosewood!
Jessica x Officer Holbrook – He's single, right?
Jessica x Dr. Palmer – They've already met before!
Jessica x Papa Hastings – Pick up that steamy affair from where they left off.
Jessica x Byron x Mike – MONTGOMERY MAN SANDWICH!!!
Jessica x Wren – He usually likes 'em younger, but I don't think Wren will turn down any open slot where he can put it in.
Jessica x Ezra – I know he's single too, but he's not in contention. Jessica is just lonely, not desperate.
During their bonding sesh, Emily comes out as a big ole lesbian to Mama DiLaurentis (did she not read the newsletter?) and Jessica's reaction was along the lines of *YOU GO GURL*.
Emily: I'm with a girl. I realize that's who I want to be with. That's who I am.
Jessica: I'm very proud of you, Emily.
See? Short, simple and sweet. Watch and learn, Pam Fields! Was that really so hard for you to do??? Speaking of which, I'm proud of our Emily who has come so far since she was that closeted little lesbo in Season 1. Now she's out and proud and being all *I'M WITH A GIRL HOLLA~*. Her personal growth brings a tear to my eye.
After coming out as a lesbian, Emily also came out to Mama DiLaurentis as a ~*medium*~ because she can apparently see Alison's undead spirit wandering everywhere~~~ Jessica's reaction was along the lines of *I ALWAYS KNEW YOU HAD THE SIXTH SENSE IN YOU EMILY*
Emily: Mrs. DiLaurentis, I want you to know that you're not the only one who has seen Ali. I have too.
Jessica: Of course you have. You loved her as much as I did. I wished Ali would have returned those feelings. I couldn't have asked for a better person to love her than you.
AWWWW~~~ Even Alison's mother ships Emily with Alison. :) I bet a lot of those shippers on Tumblr must feel so validated right now. *lol*
Hey Emily, I see Alison's undead spirit too! Look, she's right there behind you! At this point, is there anybody who hasn't seen Alison wandering around somewhere? I mean that bitch is barely in hiding anymore. She's over here, short-changing the barista at the coffee shop. She's over there, bitching out the cashier in the supermarket aisle. I love how PLL acts like *ZOMG ALISON IS ALIVE!!!* is such a major revelation when they've already dropped a hundred hints beforehand.
That's not yo baby, Ezra!

This episode, Ezra discovers that MALCOLM IS NOT HIS SON. *guffaws* Bwhahahaha! *snorts* After all that bullshit drama last season and it wasn't even his kid! WHAT A CHUMP!
We all saw this coming, right? As soon as Maggie & Malcolm were introduced last season, they were pretty much D.O.A. just because making Ezra into a dad is such a fundamental obstacle to the ~*EZRIA ENDGAME*~. As long as Ezra has to take care of some seven-year-old brat, he can't also take care of the seventeen-year-old brat that he's screwing his brains out with, which means ANYONE IN THE PATH OF AN EZRIA REUNION MUST BE DESTROYED. [/PLL showrunners]
Ezra found out he wasn't the baby daddy through the paternity test results. Maggie confessed right away: "ya sry i was a pretty big ho back in the day " which meant she knew the kid wasn't Ezra's all along.
The problem with Maggie is that she's a Dumb Bitch who didn't have a contingency plan. If I were her, I would've written down my response and rehearsed it to perfection. And I would have lied until the bitter end. This should have been Maggie's reply: "WHAT!? THIS ISN'T YOUR KID!? HOW DID THAT HAPPEN!? I AM JUST AS SHOCKED AS YOU ARE! *jaw drop* DID THE HOSPITAL MAKE A MISTAKE!? WERE THE BABIES SWITCHED AT BIRTH!? THIS IS AN ABC FAMILY SHOW SO IT'S A REAL POSSIBILITY!" She should have feigned ignorance until the cows come home. Instead, she immediately told the truth! So stupid! Lie, Maggie, just lie! Ugh, I guess that's why this bitch isn't one of the ~*pretty little liars*~.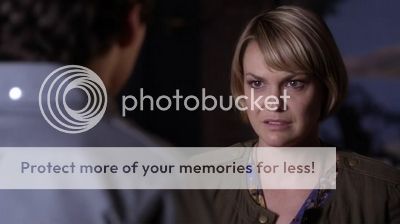 Maggie is a pretty disgusting human being, right? What a scumbag move to lie to a man about a son that isn't his, and what a scumbag move to lie to your own son about a father that he never had. Like holy shit, this Maggie bitch is soooo fucking filthy. She's nothing more than a money grubbing ho who wanted a chunk of Ezra's family fortune and used Malcolm as her meal ticket.
Maggie: I gave myself the answer that I wanted!
GURRRRRL THAT'S NOT HOW IT WORKS. You can't get pregnant first and then choose who should be the baby daddy afterwards!
The only good thing to come out of Maggie's hoax is how much it devastated Ezra. *lolpwnt* He gets all BUTTHURT after the revelation and I'm just laughing my ass off when he starts blubbering about his emotional connection with Malcolm. GURL STOP JUST STOP YOU ARE EMBARRASSING YOURSELF AT THIS POINT. I'm sorry, but Ezra can only blame himself for believing any random kid delivered to his doorstep is automatically his son. What a dumb bitch~
Let this be a valuable life lesson for ya, Ezra! ALWAYS CHECK THE RECEIPTS.
Maggie's baby lie opens up some interesting questions. Namely, I have a hard time believing somebody as meticulous as Ezra's mother would willingly pay Maggie seven years of alimony money without ~*fact checking*~ first. It's not like Dianne is a trusting person either, so this doesn't make any sense unless Queen Fitzgerald knew the kid wasn't Ezra's from the start.
Think about it, that's why she had no problem evicting Maggie from her apartment and throwing her grandson out in the streets, because she knew they had no blood relation. In fact, I think Ezra's mother was a strategic mastermind who had planned this gambit seven years ago. She kept up the charade because she knew that finding out the truth one day will absolutely devastate her son and make him come crying back to mommy. Aha, all the pieces are coming together now! WELL-PLAYED, QUEEN FITZGERALD!
I'm not buying into the show's strategy to make Ezra sympathetic by turning Maggie's character into a despicable wrench, no way! However, I do feel deeply sorry for him because he seems like such a *pathetic loser* y'know? This season, it's becoming more and more evident that Ezra has nothing going on in his life. Zero prospects, zero ambitions, zero achievements. For a while, he thought fatherhood was his raison d'être, but that's taken away from him now and he comes to the crashing realization that his life is a TOTAL DISASTER.
Honestly, it's possible that the highlight of his life may be his relationship with Aria. THAT'S NOT AN EZRIA ENDORSEMENT but you can see how he might value a sordid affair with an underage girl when there's nothing else in his sad pitiful life.
To make matters worse (better?), Ezra keeps getting repeatedly pwned this episode when Aria is turning down his calls. BWHAHAHAHA. Hey Ezra, you wanna cry to your ex-girlfriend about not having a son anymore? TOO BAD! CALL DECLINED!
Sorry Ezra, but your girlfriend is too busy getting all hunky-dory with her new boy toy to care about your existence anymore. Goodbye!
Unfortunately, I'm already running out of interesting things to say about Jake x Aria. Nearly every episode has been *Jake and Aria has a short conversation* followed by *Jake and Aria starts making out* and I don't know how much of this same crap I can take this anymore. Honestly, I don't dislike Jake's character and I don't even mind their relationship that much, but their scenes have felt so stagnant since the beginning. Give us something new, you know?
This episode, Jake is competing in some ~*karate championship*~ which is like a huge turn-on for Aria. This girl has a secret fetish for these dudes wrestling and grinding with each other. Remember when she ditched a date with Ezra (lolpwnt again) just so she could watch Holden's fight a few seasons ago? (Sorry, I shouldn't have asked. Nobody remembers Holden.) As soon as Jake mentioned *karate tournament*, Aria's eyes widened and she was like "What? Fighter p0rn!? I'm there!"
I would have liked to see footage of this fight taking place, but god forbid PLL actually allowed Jake's character to have one interesting moment on this show. *nixes the idea*
Aria is in charge of this episode's investigation, which involves talking to this disastrous creature (who's destined to be a reality TV participant at some point in her life). Basically, it was revealed that CeCe *hated* Alison for pushing some chick down the stairs and getting her kicked out of college. CeCe also *hated* the pretty little liars because she thought they were guilty by association.
O-M-G! I am so shocked that CeCe Drake is secretly such a big bitch! [/said by nobody ever] Well, Aria seems taken by surprise that their beloved confidante CeCe is such a bitch in sheep's clothing, but the pretty little liars have always been slow on the uptake. "Thanks CeCe! Take my college application and give this to your friend Steven from Admissions! I trust you with it 100 percent!
"
Wren vs. Mona showdown

Before we begin the Wren portion of the recap, I must make a confession. Wren's character has been rubbing me the wrong way for a while now and I've developed an irrational hatred towards him. I can't pinpoint an exact moment when I started hating him, but this guy seems so sleazy and disingenuous in his appearances lately. PLL always takes these charming characters and turn them into massive creepers, so I'm afraid he fell into the same trope.
BUT THEN~ Wren's actor, Julian Morris, took some ~*artistically nude*~ photos earlier this year that I stumbled upon online. Now, I can't look at Wren without those hot Wonderland pictures surfacing in my memory. And ever since then, I love Wren again. You'll be amazed what a pair of butt cheeks can do to somebody's likability factor!
At Radley, Mona is able to catch up with all her old friends, including "Dr." Wren. They've a chilling convo where Mona hisses veiled threats while Wren was like "Teehee! I'm so ambiguously evil!
"
Mona: Why would I ever be honest with you?
Wren: You used to be.
Mona: That was before I realized where your loyalties were.
Wren: *pauses* I'm not sure what that means. And I thought we've done a good job establishing a sense of trust while you were a patient here.
Mona: That was before I realized you were keeping secrets from me.
omg i am getting GOOSEBUMPS just from typing out this conversation. This **mental warfare** is too intense for this poor little recapper's heart!
To his credit, Wren is more than just a pretty face and a perky round butt, because he quickly deduces: a.) Mona's murder confession is fake fake fake & b.) Mona hasn't been taking her tranquilizer shots at Radley so that's why she's acting more…erm, insane than usual. I had to pause for a moment as I wonder if it's humanly possible for Mona to be more insane.
Mona: Wilden was bothering them so I got rid of him. And I'd do it again.
Wren: I don't think you got rid of anybody. That's my response.
Mona: *evil stare*
Wren: *evil stares back for an eternity*
Wren is actually holding up quite well against Mona's brand of evilcrazies, isn't he? I'm impressed!
Mona: *peers at Wren's notes* By the way, you forgot the 'g' in 'diagnosis'.
lol~ The sad part is that the word 'diagnosis' must be one of the most commonly used words for doctors, so you have to wonder how many of Wren's medical reports contained the same spelling mistake. How did this guy even get through medical school, man?
Wren and Mona do a fun little *how does this picture make you feel?* exercise, which is really just an excuse for Mona to be as bitchy and psychopathic as possible. When I look at the picture, the first thing I noticed is OMFG WHAT IS DAT MAN DOING TO THE LITTLE BOY!? STOP TOSSING HIM LIKE THAT HE'S NOT PIZZA DOUGH! CHILD ABUSE!!! D: D: D:
"Dr." Wren's Dianosis of Recap Everything: Extreme distrust and paranoia. Delusions of persecution.
All our WRENNA dreams are dead

This episode's unintentionally funniest line goes to Hanna, who shares this brilliant insight with us:
Hanna: I was wondering if maybe you can help me get into Radley.
Admitting you need help is the first step to recovery, Hanna! Actually, she wants to go into Radley to consult with her life coach Mona. *sighs* Seriously. You'd think after having her 258th Dumb Bitch moment this season, this girl would finally learn her lesson for once, but noooo let's put all my trust in Mona because she definitely has my best interests at heart! I feel like Mona is to Hanna what Ezra is to Aria. The relationship between them is unhealthy and she needs to get a grip, gurl!
I think one of my new year's resolutions is to stop 'stupid-shaming' Hanna, but it's kinda hard when she's saying blatantly dumb shit like "MONA IS NOT THE ENEMY!!!" Luckily, Caleb continues to be a smart and sensible human being who serves his girlfriend a mouthful of *TRUTH SANDWICH*.
Hanna: Mona is helping my mom! She's…
Caleb: NO! First, A uses a Sedan as a wrecking ball on Emily's house. And then Jenna shows up in a lake looking like soggy bread. And now you want to go to Radley and ring the bell jar!? Hanna, listen to yourself, okay!? You're so desperate that you're willing to go to the enemy for help!
CALEB SPEAKS SO MUCH TRUTH IT HURTS. *clap clap clap* STANDING OVATION FOR YOU, GOOD SIR!
Since Caleb confronted Hanna with actual logic, she naturally runs in the opposite direction and seeks validation from Wren instead. (This exact situation happened last season too.) That horndog Wren certainly perked up at the sight of Hanna and goes like "REBOUND SEX?
" but Hanna only wants to use him to get into Radley. And then Wren……ahem, sorry, I forgot what I was gonna say. I was momentarily distracted by Wren scratching his balls in front of Hanna in that picture.
No, seriously, what are you doing with that hand, bruh!? Was he trying to unzip his pants to show Hanna what she's missing out on? Put that thing away, Wren! No means no!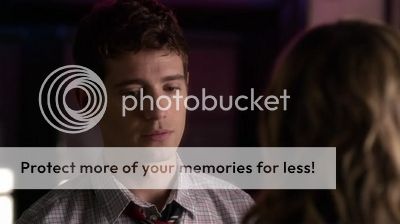 Hanna: I'm just wondering about CeCe. Has she contacted you? Spencer said you let her in once before to see Mona…
Wren: *shifty eyes*

Hanna: What's wrong?
LOL. This look is Wren coming to the realization that WOMEN TALK and they talk about EVERYTHING, ohohohoho~ *hides smile behind hand* The idea of Hanna & Spencer gossiping about him must have scared Wren, who assumed he played it so well up until now: "I got this bitch Spencer eating out my palm and I got this other ho Hanna in my back pocket!" As it turns out, these girls have him figured out and they be talkin' smack about how much his stank ass gets around town~~~
Wren: Ever since our budget was cut, the hospital has been a bit short-staffed. Things have been missed, that's all.
Hanna: Okay. You have security cameras, right?
LOL. WHAT SECURITY CAMERAS!? Gurrrrrl, they don't even have locks installed on their windows! Mona has probably escaped already and is currently enjoying a martini at the bar.
(Sidebar: And if Radley really wanted to save money, they should consider sacking Dr. Wren 'Dianosis' Kingston. Altho 'budget cuts' is probably the reason why they hired him in the first place.)
I want to take a moment and comment on Hanna's outfit this episode, which has a very ~*presidential*~ feel to it. Doesn't she look like she should be organizing a fundraiser brunch with Michelle Obama or something? It's especially funny to juxtapose her next to Caleb, who is dressed like he just came back from the drag racing tracks. The two of them look so mismatched together lol~
Later in the episode, Caleb decides to snitch on the pretty little liars by telling the authorities about A, but Hanna stopped him because this show would be over if they actually did such a sensible thing.
And then, Caleb threw a major hissy fit and went like *ENOUGH WITH DIS A SHIT* *I QUIT* *I AM GOING TO RAVENSWOOD* *I AM TRADING MY GIRLFRIEND IN FOR A NEWER MODEL* but Hanna reminds him that he still has three episodes left in his contract so he can't get rid of her this easily.
And then, Oliver Goldstick rushes into set to remind Hanna and Caleb that they must prolong this relationship until Caleb's character is integrated into his new spinoff show, so he demands that they keep up the charade longer. Now kiss!
We get a hilarious moment when Caleb and Hanna start making out in the street like savages, and then Wren watches the two of them from his car like a total creeper. *lolouch* When Hanna approached him earlier, you know Wren totally thought they were gonna hook up again, so seeing this ~*Haleb*~ kiss must have been a tough pill to swallow. Oh well, Wren should be used to sloppy seconds by now.
Wren: Ring ring… *calling Miranda on the phone* Hi, we have a problem. I'll take care of my end. You take care of yours.
I am shipping Wreronica

OMG. When Wren was in the kitchen with Mama Hastings (or as Wren would spell it, Mama Hastins), who else wanted him to start seducing Veronica to finish the Hastings Trifecta? *lmao* If Wren and Veronica hook up, that would seriously be the most amazing thing to ever happen on
Pretty Little Liars
, I'm not even exaggerating a little. I am shipping Wreronica so hard right now like you won't believe! :D
Wren: I know my history with the Hastings has been a little rocky. But regardless if you like me…
Veronica: LIKE YOU!? You broke my daughter's heart and took every piece of goodwill this family extended to you and flushed it down the toilet!
OHOHOHOHOHO SO MUCH ANIMOSITY. THEIR HATESEX IS GONNA BE SO MIND-BLOWING~~~
Is this the first time we've seen Wren and Veronica interact with each other? If so, that's because PLL knew the sexual chemistry between the two of them would be irrefutable. Every time she hurls an insult at him, I'm just thinking to myself: "Will they do it on the kitchen countertop, or will they just ravish each other on the floor like animals!?!?"
Papa Hastings seriously needs to keep an eye on his wife, whose honey is bringing all the bees to the flowerbed. Between Wren and that law intern from a while back, it's evident that a STRONG. SUCCESSFUL. POWERFUL. WOMAN. like Veronica must be quite desirable for these young sexually frustrated men. I bet she'd make these boys call her *ma'am* while dominating them in bed.
Anyway, the point of Wren's visit is to talk mad trash about Mona, warning Mama Hastings about the evil ways of this demon imp. She reminds him that he's breaking the doctor-patient confidentiality and he's basically like: "Well yes, I'm aware of those laws, but they only apply to real doctors, not doctors like me with air quotes around my title."
Veronica: You know you could lose your medical license over this? She's still your patient, isn't she?
Wren: She is. But if I hadn't made such a mess of things, you were once gonna be my family.
OMG. Was that a proposition from Wren? YOU WERE ONCE GONNA BE MY FAMILY = BUT I COULD STILL MARRY INTO YOUR FAMILY…THROUGH YOU.
Veronica pays Mona a visit at Radley, where they proceed to have a BADASS-TO-BADASS pissing match about who has the bigger balls.
Veronica: I get the feeling you make a lot of people nervous, am I right? Well, you know what? So do I! I can be pretty scary myself! And if I find out you're gonna use this stunt against my daughter and her friends, you'll just find out how scary.
What a boss~ I gotta say, I've noticed the increased prominence of Veronica's character this season and I am *LOVING* every second of her presence. Every time she's in a scene, this badass is throwing the shade down and dropping home truths to anybody in her way. I'm so glad Spencer's mom finally gets to be the ferocious badass that I always knew she was deep down.
Veronica: If you continue to screw with my family or this case, I HAVE WAYS TO SEE TO IT THAT YOU ROT IN A CELL UNTIL YOUR HAIR TURNS GREY!!!!! YOU UNDERSTAND ME!?
E-P-I-C!!!! …and completely inappropriate for a defense attorney in her position, but still epic nonetheless. Whose life feels a little more complete now that you've heard Veronica Hastings scream threats loud enough to cause an underwater volcano to erupt? Actually, Mama Hastings is so scary that she can probably scare an erupting volcano back into submission.
Unfortunately, that sneaky little weasel Wren secretly filed a harassment complaint against Mama Hastings. And apparently there's some kind of law that prevents Veronica from behaving like such a righteous badass, so now she has to withdraw as Mama Marin's defense attorney.
DIS WREN BITCH WITH HIS FALSE LOYALTIES AND HIS UNDERHANDED BITCH MOVES. What game is he playing at here!? Is he working for CeCe? Melissa? Or is he simply fucking up Ashley's case just to get back at Hanna for making out with Caleb earlier in the episode??? (lmao if that's the real reason)
I have to admit, it was pretty intriguing to watch Wren orchestrate Mama Hastings' downfall like a masterful puppeteer. We never saw this Machivellian side to Wren before, but I kinda really dig it! I think his character could get away with a lot of underhanded shit too because the pretty little liars still seem to trust him for some reason, so his scenes could potentially be a lot of fun. I eagerly await his next appearance on the show!
P.S. IF YOU HAVEN'T GOOGLED THOSE JULIAN MORRIS NUDE PICTURES YET, DO IT NOW. YOU ARE MISSING OUT BIG TIME.
Read more recaps!